On Fall Break
Fall break holds a special place in my heart. It's a comma in the middle of a sentence – a pause before the next movement of a symphony. A chance to take a breath, reset, and gain some perspective.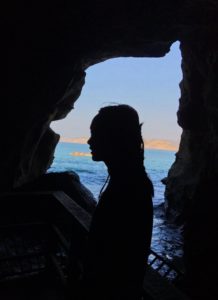 Junior year has been, unsurprisingly, pretty hectic. I'd spent the summer down in Charlotte for my internship (that's a different post), and, with early move-in for tour guide training interspersed with flights up to New York for interviews, I found myself back in Nashville before I was ready. Although I had a great summer, my internship was one of the most professionally challenging experiences I've ever faced, and I was overwhelmed by the sudden stress of school projects and midterms, orchestra rehearsals and solo performances, dance practices and club meetings.
But life wasn't going to stop just because I wanted it to. So I kept running.
The past couple of months have been a sea of rushed meals and hasty conversations with that uncomfortable, ever-present fog of stress overhead. Sadly, while I did everything I needed to do, I didn't take time to appreciate much at all.
It's essential to be ambitious and have goals we want to achieve; they push us to be our best and teach us how to pick ourselves up when we fall. I don't even doubt that we'll reach our goals. My friends and peers are some of the most passionate and hardest working people I know. I'm just scared that, one day, we'll have everything we ever wanted and not remember how we got there.
This break helped me stop running. Literally. My mom, sister, and I took a trip down to San Diego this weekend where we lazily strolled through the cobbled streets of Little Italy and Gaslamp Quarter. There were no goals or deadlines to meet. No competitions to win. No midterms to ace.
It's Sunday evening as I write this in the comfort of my dorm, but I'd ready to go back to school. As everything begins to pick up again, I hope that I can keep the clarity I've gained in the past couple of days. To look around and admire the leaves changing color as I'm walking from class to class. To appreciate the taste of that chai latte marking the beginning of a long study session. There will always be another race to run, but that doesn't mean we can't appreciate the view.