CC: Cru!
Thank you to Dara Craig, James George, and Kyler Russell for an awesome post! Especially Dara for organizing everything :) You rock <3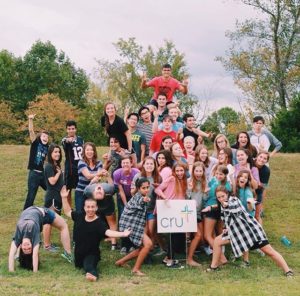 Cru, an inter-denominational campus ministry, is "a caring community passionate about connecting people to Jesus Christ." We hope to be a place where everyone has an opportunity to encounter the person Jesus Christ, regardless of where they are in their spiritual journey, and a place where Christ followers are equipped to share their faith and have an influence for the rest of their lives.
We meet on Wednesday nights from 7:30-9 in Alumni Hall for snacks/hanging out, worship music, and a short talk (and then more hanging out). Outside of large group, we also have small group bible studies that meet once a week. Time and day varies per group, as we try to work around crazy Vanderbilt schedules, but it provides an environment where you can ask questions or share things you might not necessarily feel as comfortable with in a larger group setting. Cru is also really invested in discipleship, so students can have the opportunity to meet weekly with an older student or staff member one-on-one, get to know each other, get in the Word, and deal with tough life stuff together. Once a month we have GNO/DNO (Girls Night Out and Dudes Night Out), where activities range from rock climbing to mac and cheese bars to bubble soccer… You name it. Also a few yearly events include: Fall Getaway (a weekend off-campus retreat to enjoy fellowship, talks/worship, and the lake blob), Winter Conference (where students from campuses across the region come together for an epic week of worship and community), Spring Break (destinations ranging from a beach house in FL to missions in East Asia), and Summer Missions (Cru is the largest mission organization in the world and has programs in over 190 countries)!
If you're interested in learning more about us, be sure to keep an eye out for a few events happening at the beginning of the semester, including our Ice Cream Social on the Wyatt Steps on August 21st after the Honor Code signing– what's not to love about free ice cream? — and our Kickoff Party the night of the first day of class. (More firm details TBD, but will be on the website.)
For more information, be sure to check out our websites (cruatvanderbilt.com and cru.org), our Instagram (@cruatvandy), or reach out to one of our staff members (ethan.crews@cru.org, natalie.lemarbre@cru.org, beth.fadelle@cru.org).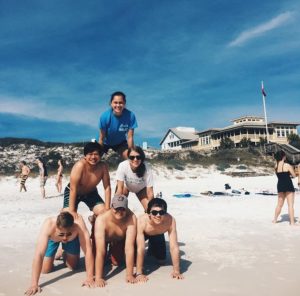 "I joined Cru the first semester of my freshman year (but have had plenty of friends join later on too), and it has easily been the best part of my time at Vandy. You'll hear people throw around the word "community" pretty often, but I don't think I've ever experienced a group that embodies it as well as the people I've connected with in Cru. With a total of about 40ish students, it makes it pretty easy to get to know everyone well, and small group provides an even less intimidating setting to foster close and deep friendships. Something that I struggled with pretty hard the first few months of my first year was the shallowness that seemed to characterize a lot of my interactions with other people on campus, and Cru was one of the few places where that wasn't something I had to worry about. It really is a caring community, and friendships that are rooted in Christ are the deepest and most genuine that I've experienced. I've found some of my closest friends in this ministry, and I can't wait to meet new faces this upcoming school year (and this is coming from a pretty introverted person). Whether you've loved Jesus for a long time or are just checking this whole Christianity thing out, I know I can speak for everybody in Cru when I say that we'd be thrilled to get to know you!
Also, feel free to reach out to me at dara.craig@vanderbilt.edu. I really love Cru and would be happy to answer any questions you might have!"
–Dara Craig, Class of 2019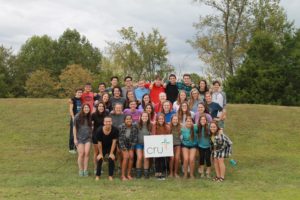 "I love having a close group of friends that support me in my life and in my faith. It's a great way to stay focused on God in the middle of the insane and sometimes overwhelming stress of school. I also love all the opportunities to hang out in Bible studies or smaller groups without being in a church or large group setting. That makes it easier to form real relationships with people and it enables you to help each other grow spiritually. We do tons of fun, cheap, off-campus activities that are easy to invite non-Cru friends to, and that helps grow the community even more. I'm so glad I found such a great community of believers on campus and I can't wait to see what the upcoming year has in store!"
–James George, Class of 2019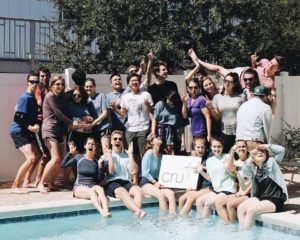 I came to college knowing I needed something more than I'd found in high school. I grew up in the suburbs of Nashville and never felt like I was truly known or understood by most of the people there. I knew I needed real friends and a real sense of community who would support me through all the ups and downs of college. I stumbled upon Cru on the steps of Wyatt the second night of freshman year and it was there that I found exactly what I'd been looking for. Because in Cru, we do life together, and that means all the good parts along with all the bad ones. Cru has been a lifeline for me; the friends I've made have become the people I call when I'm at my wit's end. Nowhere else on campus have I found people who grieve and rejoice in tandem, people who are just as comfortable crying together as they are dancing like nobody's watching, and everything in between. This life is hard, but I've found that it's easier together. If you're looking for a place to be grown and be known, for all your triumphs and your losses, we'd love to have you at Cru. Because you are valuable and special and loved.
–Kyler Russell, Class of 2018