CC: Asian-American Christian Fellowship (AACF)!
So many thanks (and love!) to Renee and Anna, my Phi Lamb big and grandbig, and another Phi Lamb sister, Melissa! I love them so much <3 The information on the website is a bit outdated so I'm going to link you to their group, but if you're interested, click here!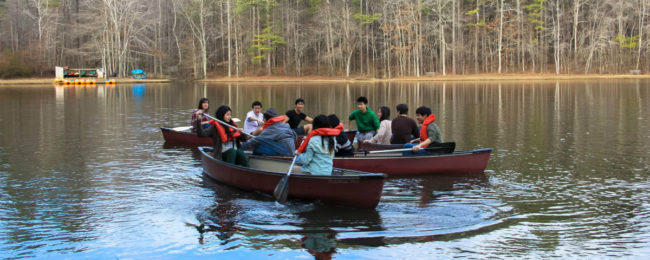 While I was not a Christ-follower when I first joined this fellowship, AACF became a comfortable space for me to start exploring faith. I identify very strongly with Asian-American culture – the dichotomy of perspectives between parents and children and the emphasis on academics and success helped me feel an instant connection with my tribe (small group/Bible study) peers. It gave me a platform to stand on while in unfamiliar territory.
In the two tribes that I have been in, we have taken at least an hour and a half a week to explore Bible passages collaboratively. Together, we read them, dissected their significance, and discussed some real-life, personal applications. Because of the way tribe was structured, I was able to not only learn how to study the Bible, but also ask my fellow tribe members about their perspectives on different topics as Christ-followers. Tribe provided me with a small, welcoming community that enabled me to take shared experiences and learn about them from a different lens, ultimately giving me the chance to reflect on my own perspective and reshape some of my opinions. Throughout my time in AACF, everyone has seemed so ready to share their own thoughts, listen to different opinions, and honestly admit when they have not been sure about something. Over the course of the semester, I felt more and more open to asking tough questions, simply because the community we created felt so open.
–Renee Chen, Elementary Education, Class of 2018

AACF, or Asian-American Christian Fellowship, is a Christian campus ministry that seeks to provide a home for Asian-American students and equip them to share the love of Jesus with our school. Each week there are small groups that do bible study, prayer, and sometimes volunteering or sharing a meal. There is also Large Group each Friday where the whole fellowship comes together to build community, worship, and learn more about God, generally through a guest or student speaker or a workshop. Finally, students can request to be paired into discipleship or mentorship relationships where they are able to find accountability and guidance for their personal walk with God. (There are also sometime groups for those seeking to learn more about God or people who grew up in the church and now have questions, but I'm not sure what will be available next semester).
The fall of my sophomore year, I was struggling to find a Christian community that I could be vulnerable with while studying God's word deeply. Two of my best friends were in AACF and invited me to their small group. As I'm not Asian, I was hesitant to go. But I'm so glad I did! Everyone in the small group was super nice and welcoming even though it appeared that I didn't belong. They were studying a passage of the Bible with depth, asking critical questions which couldn't all necessarily be answered. Everyone was engaged in the conversation even though there weren't defined discussion questions. I loved it! I started going every week and attending large group as well. I was on leadership for the next two years and looking back, I feel joining AACF had the largest impact on my walk with God and college experience. I learned so much about building real community, seeking truth when it's hard, loving people well who are very different from me, and following God no matter where he takes me. I hope other students are able to similarly find a home on campus with AACF 🙂
–Melissa Marts, Class of 2016
Having struggled with finding Christian community in middle and high school, I was definitely nervous about finding a ministry in college. However, I felt comfortable almost immediately in AACF. I felt that the other members of my small group were people who truly understood where I was coming from and accepted me just the way I was, while also encouraging me to continue growing in Christ. Whether we are talking through Bible passages together or sharing the ups and downs of the past week, my AACF small groups have been caring communities dedicated both to each other and to following God.
— Anna Huang, Neuroscience/MHS, Class of 2018