Move-In Day: The Layout!!! (Possibly the Most Important Post That You'll Ever Read)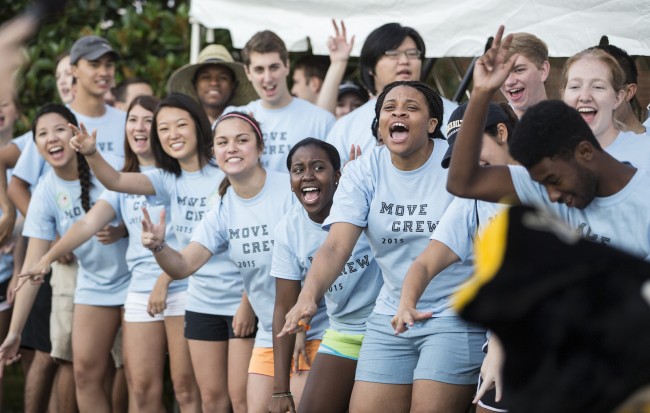 As the Move-In Day team climbed the stairs of my dorm with yet another item from my van, I started turning red. (And for someone who's Indian and white, that's a little hard to do). "Gosh, you have a lot of stuff!" a junior exclaimed as he put the final item into the room. I swallowed, uncomfortable. I had only packed my mum's minivan to bursting (oops).
So, this is the post I wish I had read before Move-In Day. Although each dorm will vary in style and size (and bless you if you have only one other roommate in a triple), I'm going to write about my dorm in Stambaugh. [Note: The older dorms (East, West, Memorial, Gillette) are smaller, and there are differences in size/whether the closets have doors/what kind of flooring. But these are some good tips for general Move-In Day, and if, once you get your dorm assignment, you have questions, email me! I have friends in every dorm and I can get you that info :)]
The Girls Across the Hall with the Perfect Room v. The Reality of Yours
First of all, you will meet the girls who have matching bedspreads and monogrammed pillows. This is really a feat of amazingness, because you will not know how hard it is to coordinate bedding with your roomie until you start Snapping each other pictures of online stores with things circled. You might discover that you have completely different tastes. If that's the case, you might just want to go with solid color bedding in two different (but complementary) colors. It will look good, I promise. If not, and you have the perfect roomie, congrats! :)
Also, you will not have the perfect room. Your room might look awesome (and mine arguably does), but it will not be perfect. A strange smell might overtake your room for a month or so. Mysterious dust bunnies will appear from nowhere. And you and your roomie (or roomies!) may have completely different tastes in temperature. It's okay. You're going to work it out.
Starting from Scratch
Now, the real first. When I entered the room at Stambaugh, I was totally floored. Why? Because my dorm looked simply amazing. Let's look at the layout. (And that tile!)
There's tile flooring that's literally nicer than the laminate wood flooring I had at home. We covered part of ours with a blue rug from Target ($70 but so worth it) which added such warmth to the room. We ended up lofting our beds halfway. Look at that word: halfway. This is a really, really, REALLY important word, because originally, our beds were raised and our desks were under our desks. This was super uncomfortable, because every time I would get up, my hair would get caught in the metal barbs on the bottom of the bed. It super hurt, so two or three days into freshman orientation, a very kind gentleman from the floor below helped us loft our beds halfway, put the trash and recycling under my bed as well as the suitcases, one of the chests of drawers, and one of the plastic drawer-things from Target. (Note: in order to loft your beds halfway, you will need a mallet. Mallets are in short supply during Move-In Day, so you're going to want to bring one).
We moved our desks and put them adjacent to our beds. Now, be warned. The ergonomic design of the chair will lead you to believe that at one point of not-studying and rocking back and forth in them, bored, you're going to fall over. This feeling is good, because it is indicative of the probable future (given that you're the kind of person who walks into walls, of course). It doesn't hurt all that much, I promise. :)
You also will have two bars to hold towels. I recommend not using these for wet towels, because that could get really gross. You might want to buy a drying rack and then put the rack near the window and the sunlight. This seems like a really good idea (and is, actually), until one early morning a certain roomie (me!) reached over for her alarm clock and fell onto the drying rack. It really, really hurt. Just don't make the same mistake that I did.
The closets are actually quite big and you shouldn't have a problem putting all your clothes there, unless you hang up sweaters. I actually bought a big plastic chest from Walmart to put all my sweaters in; sweaters keep better if they're folded anyway. I also put my T-shirts in there, which I pretty much use only as pajamas.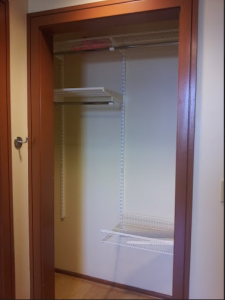 My shoes had a bit of a problem fitting in, even though I brought two shoe racks to college. Disclaimer, though: I did bring about twenty pairs of shoes, and ended up switching between my Skechers and my black canvas shoes on a daily basis. I try to vary the footwear up on Sundays, because I don't want to have brought 20 pairs of shoes and then worn only four pairs, but next year I'm definitely bringing less pairs of shoes. (Well, maybe… I do have the cutest gold heels ever).
We also put a semi-sheer curtain over our closet so that we could change after showering and also so that the contents of our closet wouldn't be seen. This is has been so nice as you can't see the shoes spilling everywhere, the clothes thrown in the back of the closet… nothing, except for a blue sheer curtain. Or in Dede's case, pink. The tension rod gave up after about the second week, though, so I ended up tacking my curtain up.
And… decorating!!!
And then here we go… TACKS. Tacks are your best friend. At Vandy, you're going to have two self-healing walls: one for you, one for your roomie. This means that you're able to use tacks everywhere you want. You'll know that these are the self-healing walls because they'll be all bumpy. The smooth walls are not self-healing, so don't put anything on these walls: tape, tacks, nothing. It' super dangerous because I have learned that the paint peels really easily and you really don't want to pay for damages to the room at the end of the year.
I think that's it!!! Most of the posts I read were kind of unclear, but through the pictures, I hope that you got a good idea of what it's like. Let me know if I should add anything!!! If you have any questions, feel totally and completely free to shoot me an email at sophia.druffner@vanderbilt.edu! I'd love to hear from you!
Love y'all!!
Sophie!!!