Birthday Done Rite
This year's Rites of Spring lineup was unmatchable.
Lil Dicky….
Future…..
Claudia's debut into her 20's…
In short, few are lucky enough to attend Vanderbilt's annual Rites of Spring concert. Even fewer are fortunate enough to turn the big 2-0 on the same weekend.
My birthday happened to fall on the best weekend of Vanderbilt spring. Not only are college birthdays a blast because you're surrounded by your bestfriends all day, but Rites supplied me with endless activities to ring in the new decade.
To start off the day, I woke up to a fresh iced coffee, balloons, sweets, and gifts from my roommates– I started the day off spoiled and definitely didn't hate it. Everyone knows that no birthday is complete without brunch, so I invited a group of my closest friends to kick off the day with some Huevos Rancheros at Cantina Laredo in the Gulch (if you know me at all, you know I live for guac and mexican food).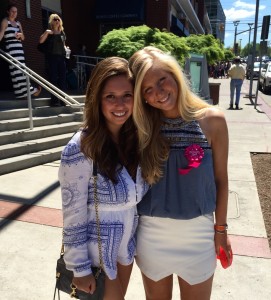 Bellies full and morale high, my crew and I headed to tailgates. Blessed with a 75 degree and sunny day, I headed to Rites tailgates with my slightly obnoxious "Birthday Girl" pin to ensure everyone knew it was MY day. I went from "I don't care about birthdays" to introducing myself as "THE Birthday Girl". Don't worry, I'm tired of me too. Before I knew it, dancing the day away and hugging everyone I saw really caused me to work up an appetite.
Hangry but still proudly donning my pin, I showed up to Lucky Belly in Hillsboro Village with what remained of my original birthday squad (the survivors). One thing I learned: those that stay with you all day on your birthday are true gems. Appreciate them, keep them around, and buy them Lucky Belly fries.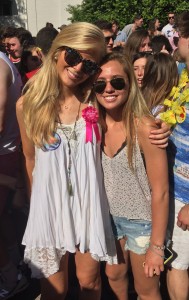 I was finally ready to go. The perfect day was behind me, and I had my ticket in hand. I refused to lose steam. Still two hours before Future's performance, I figured it wouldn't be the worst idea to go relax in my Branscomb dorm. Relaxing turned to lounging which turned to snoozing which turned to a deep, deep slumber. Long story short, I missed Future. Short story, I had the best birthday with my bestfriends.
So, I hope you're all as lucky to celebrate your birthday the RITE way. Who knows? Maybe next year I'll make it on stage.