Vandy Basketball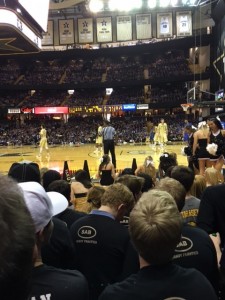 Because of our basketball team's sky-high expectations coming into the season, including a number 18 ranking in the AP preseason poll and numerous NCAA tournament dark horse selections by several college basketball analysts, Vanderbilt's early exit from both the NCAA tournament and SEC tournament frustrated Commodore fans so much to a point where most are calling for the firing of head coach Kevin Stallings.  These high expectations were based on likely upcoming 1st round NBA draft picks, junior center Damian Jones and sophomore guard Wade Baldwin IV, and respectable shooters, junior forward Luke Kornet and sophomore guards Matthew-Fisher Davis and Riley LaChance.
Early in the season, the Commodores flashed their potential after a close loss to Kansas, the current top seed in the NCAA tournament, at the Maui Invitational.  The start of SEC play, however, quickly revealed our team's flaws such as poor bench play, hot and cold shooting, and difficulties during crunch time that foreshadowed a season full of disappointment.  Although I could continue to talk about how much Vanderbilt basketball made me want to break my T.V. at several points this season, I will, instead, talk about the season's highlight.  Vanderbilt won 19 games and made the NCAA tournament, so there were some moments throughout that made fans proud, most notably the Kentucky game.
In the college basketball world, everyone hates Kentucky (besides Kentucky fans of course) because they bring in the number 1 recruiting class almost every year.  This year, Vanderbilt played Kentucky, ranked in the top 25 at the time, at home, in Memorial Gym on February 27th.  The student section was filled to capacity, which almost never happens, and free shirts were given out as a promotion.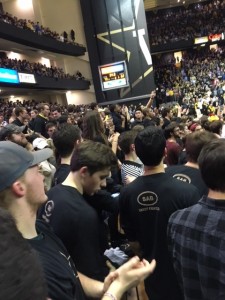 This game was the most fun and electric Vanderbilt game that I have ever been to.  Kentucky guard, Jamal Murray, may have dropped 30 points on us, but the Commodores stormed back with some hot shooting and excellent play by our two stars, Damian Jones and Wade Baldwin IV, and won it by a score of 74-62.  Because we did not think that we had a chance of winning against Kentucky and we do not anticipate on beating them anytime in the near future, we rushed the court!  It was a moment of straight joy for all of the players and students, and it is a moment that probably will not happen again because the SEC fined our school 100K for allowing us to do it.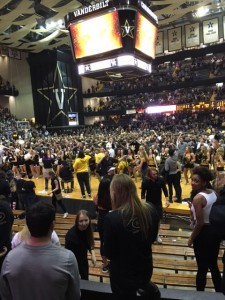 All in all, it was awesome.
-Jeff Yung