Vanderbilt Star
So, something really cool is happening next weekend. Specifically, it's happening on Sunday, March 20. I'm a chosen finalist to compete in Vanderbilt Star! Vanderbilt Star is a songwriting competition that Vanderbilt, Belmont, and MTSU students were eligible to audition for. Out of everyone who applied, I'm one of the eight finalists! Four are from Vanderbilt and four are from Belmont. I think this is really a once in a lifetime opportunity. The panel of judges consists of people who are in the music business in Nashville. An example? Eric Pasaly.
For those of you who aren't country music fans, Paslay has written for the likes of Jake Owen, Lady Antebellum, and Eli Young Band. Recently, he's come out with his own album with singles you might recognize like "Friday Night" and "She Don't Love You". His latest single is "High Class". Do look them up-he's a phenomenal songwriter. I'm so stoked that I get to be in the same room as him, let alone play an original song of mine in front of him and hear his feedback! What?!
The way the competition works is that the panel of judges picks the top three out of the eight finalists after everyone performs. After that, it's up to the audience. The winner gets to record his/her original song with Lamon Records. The runner-up wins a songwriting session with one of the judges (I'm secretly hoping for that one). Really though, at the end of the day, I am just incredibly thrilled to be able to perform (especially in front of Eric Paslay!) and that I was picked as a finalist. Wherever it goes from here really doesn't matter to me! Everyone in the competition is really talented.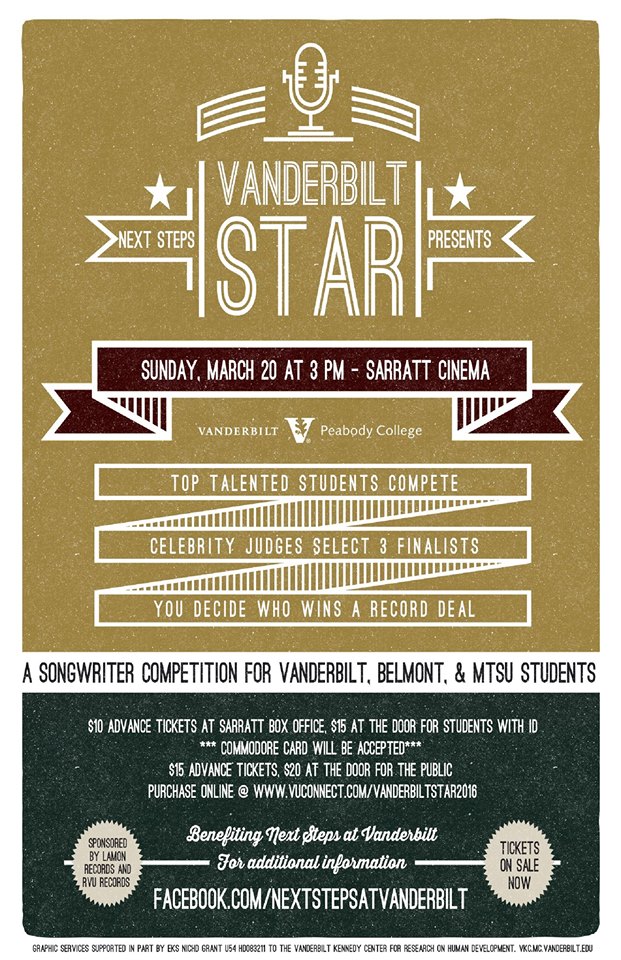 Best of all, all tickets purchased to see the competition benefit the Next Steps program at Vanderbilt!! The program's mission statement is: "Next Steps at Vanderbilt is committed to providing students with intellectual disabilities inclusive, transformational postsecondary education in academics, social and career development, and independent living, while honoring equality, compassion, and excellence in all endeavors." (http://vkc.mc.vanderbilt.edu/vkc/nextsteps/#sthash.5LwRIIOW.dpuf)
If there's any chance you'll be on campus March 20, get tickets to come out and support! And definitely vote for me ;)