Grins, Grins, It's Good For Your Heart
The more you eat, the more you…… Nevermind.
In all seriousness, "Can I have a Superfood unwrapped with extra lettuce, a veggie burger, sweet potatoes, and the sauce on the side to go?" has become a staple of my vocabulary this year.
While the Grins cashiers swipe my Commodore Card and give me the "really?" look, I'm already retreating to the drink bar to make my Rishi Cinnamon and Chocolate Tea. Annoying order changes and the wait for "Claudia" to be shrieked from the kitchen, signaling that my order is ready, is now second nature.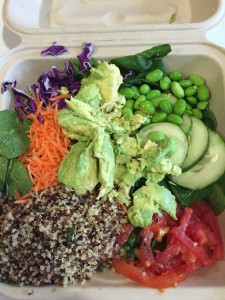 Living in Branscomb Quad (a thirty second walk from Grins Vegetarian and Kosher café) means using about 13/14 of my weekly swipes here on that exact order. Grins is connected to Vanderbilt Hillel and is the only kosher restaurant in Nashville. No outside food can be brought in out of respect for Judaism, and to much of campus's dismay, the café is closed on weekends.
I'm not the only one who loves Grins. You're pretty much guaranteed to see at least three people you know during peak meal times. This café is a campus favorite AND on the meal plan. It's the perfect healthy alternative to the Common's chicken nuggets and French fries.
Any seasoned Grins veteran will tell you that this place is all about modifications. Want to add avocado? Do it. Unwrapped? Extra spinach? Go crazy. In all seriousness, the employees are a young, spunky crowd that handles these at-times insane changes very well.
As I prepare to move out of Branscomb in two months and sacrifice my Grins proximity, I've decided to relay my expertise to the incoming freshmen, or really anyone who wants some insight.
To the Grins newcomers:
1. You can get pretty much anything unwrapped. The Apple PB&G,  Superfood, Mexicali… you name it. This tactic saves you calories from the wrap and gives you more of the nutritious ingredients. Also, get it to go in order to mix it.
2. You have to try a snickerdoodle Grins cookie at one point in your life (probably freshmen year, accept the 15).  It will change you.
3. Don't go to Grins if you are tight on time. The kitchen can take anywhere from seven minutes to thirty minutes.
4. Dazzle their hot sauce on everything. This one was a late discovery for me, but it's a game changer. If you can handle some heat, add it to the Superfood for a nice kick.
5. The Grins breakfast is BOMB. Nutella Panini, delicious oatmeal, and quiche as entreés on the meal plan? Not bad, Vandy.
In short, don't make the same mistake I did and discover Grins halfway through freshman year. Take it from me: it's well worth the trek from Commons.