Sabbath Sundays
My roommate Julianna and I were recently convicted of how we spend our time. We (as Christians) said that our lives revolved around God and that we were doing all things for His glory, but we realized that in the hustle and bustle of college life we were putting Him on the proverbial back burner. A couple weeks ago we decided to stop doing schoolwork on Sundays and instead use that time to read the Bible, pray, and fellowship with each other, as well as enjoy the beauty of His creation.
Our first "official" Sabbath was beautiful – after spending time with our spiritual sibs at the Church at Antioch, we grabbed brunch in to-go boxes at Rand, went to Centennial Park, laid out a nice big picnic blanket, and read books together (check out The Problem of Pain by C.S. Lewis!).
Uninhibited by time (as we all usually are in college, and in life in general!) we were able to slow down and truly relax. When the weather got a little cold, we went to Three Brothers Coffee. After dinner at Kissam we watched The End of the Spear (based on the true story of martyred missionaries in the Amazon) in the Stambaugh seminar room, ending with another beautiful reminder that God is good…all the time!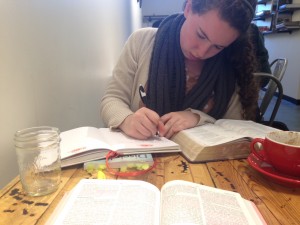 Another time we went to Ugly Mugs in East Nashville (my friend Ariana's favorite coffee shop) which is in a totally different environment than the one surrounding campus, and most recently we took the (free with our handy dandy Vandy card!) bus downtown to Frothy Monkey, a famed Nashville coffee shop.
It's been working!! Although we're still working towards focusing on and abiding in Him completely throughout the week, having at least one day wholly dedicated to Him has helped us with our perspective, and also allowed us to get to know each other and God a lot better!
Finding time to relax in college is something I suggest everyone try to do – regardless of how you spend that time — it's totally worth it! Thankful that the Nashville area surrounding our lovely campus has so much to offer!
As always, feel free to e-mail about Vandy, God, or anything in-between :)
Smiles and Blessings,
Abby