Finals.
A lot of you can probably relate to this, but studying for finals was never really a concern in high school. I was always pretty certain about the grade I'd receive, but in college it's definitely more difficult to get the grade I want. Also, the most annoying thing was finding out that an A- and an A are actually very different in terms of GPA. To summarize: I needed to study for finals, and now that finals are over and grades are in, I feel pretty good about how it went.
Regardless of how pretty the "mood lighting" in my dorm is, I literally can't pay attention in there for the life of me. So, finals week involved going from place to place, trying to find somewhere I wouldn't get distracted. That often involved hiding out in the stacks of Central Library, isolated from the rest of the world, or at least it felt like that. I could probably hide out in there and no one would find me, it's a bit surreal.
Also, it was weirdly warm for the middle of December, so my friends and I decided to study outside on Wyatt Lawn a couple of times. There was definitely a good amount of studying done, but the whole concept of studying outside in December was very college, so I spent a good amount of time taking aesthetic pictures of my friends.
Next to North House is Cohen Memorial Hall which houses the fine arts gallery and a bunch of classrooms, which also make a great place to not only study, but hang out with friends. For the last week of the semester my friends and I basically took over Cohen every night and ordered an excessive amount of pizza while watching some classic movies on Netflix.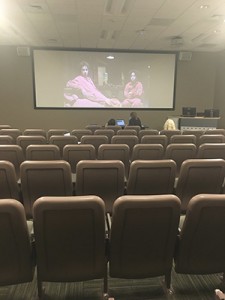 Now on to my actual finals: this semester I took Gen Chem, my Russian First Year Writing Seminar, a Spanish writing class, and European Society and Culture. The final for both my FYWS and Spanish class was a paper, which wasn't a huge concern because I definitely prefer writing essays to taking a test, and my EUS final involved writing 3 in class essays and some basic identifications, so I wasn't very concerned about those classes. The one final I was really dreading though was of course chemistry (I'll discuss my struggles with this class more in detail in my next post, but all I'll say now is yikes). But I've made it. I survived. I'm done. And I'll never have to take chemistry ever again!!!
I'm officially 1/8 of the way done with my undergrad career at Vanderbilt, and I don't really know how to feel about it? I'm very proud of what I've accomplished this semester and I've really tried to put myself out there, so it's both exciting and nerve-wracking to see what'll happen next.