Country Music, U.S.A.
Growing up in rural Kentucky, I knew country music. Thinking back, that's probably what inspired by early aversion to most things country. My mom was more of a rock and roll kinda mom, so other than some Johnny and Merle, we didn't do a lot of country. Today, as I sit here jamming to the tunes of George Jones, I admire how much has changed…
Tons of people, Vanderbilt students included, come to Music City for, well, the music. We have it all. Country, rock, indie, metal, new genres, forgotten genres, we're the heart of it all. This town is not just for country music, but that's where Nashville's origins lie.
We were the start of it. Nashville was the heartland of country recording, and we can blame the Grand Ole Opry for that. Now, I don't plan on giving you a history lesson in the origins of country music, but on Tuesdays and Thursdays from 9:35am-10:50am Professor Peter Cooper just might.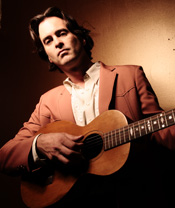 This semester, I am taking The History of Country Music, a class taught by acclaimed singer/songwriter Peter Cooper. A former journalist for The Tennessean and now a museum editor at the Country Music Hall of Fame, Professor Cooper has more stories than I'll ever be able to retell. From being threatened by Lee Ann Womack to being named one of Nashville's 10 most interesting people, Professor Cooper has done it all, and he loves to talk about it as he also recounts the rise of Outlaw Country and the influence of Hank Williams.
History of Country Music is a quickly filled class, as it is open to all students and immensely popular. During class, I sit next to a New Yorker who refers to Johnny Cash as "that guy who Walk The Line is about" and a Texan who whispers obscure country facts throughout lecture, so I would definitely say this class is fun for all. Hearing about the rise of an industry that put Nashville on the map is even more exciting when it is coming from someone who is actually in that industry.
And the class doesn't just cover country–oh no. In fact, just last week, we had a surprise visit from The Grateful Dead's Bob Weir (!!!!). Weir talked about the influence of country on The Grateful Dead's music, and described his experience in the industry and Nashville in particular. It was hard to believe I was sitting in class and not at a concert.
If you have the opportunity to take this class at Vanderbilt, you have to do it. Country lover or not, you won't want to miss this.
Rock on.