Vanderbilt Greek Week 2015… Explained
Alas, the time has finally come. That's right, Commodores…. IT'S GREEK WEEK.
If you've never heard of Greek Week, don't worry! You're not the only one. To give you the basic run down, Greek Week is a brand new program that groups a number of Greek organizations together into teams from October 5th to October 10th.  Greek Week is a way to really unify Greek life and give back to the Vanderbilt community. (Shameless plug for the ΚΚΓ,ΑΕΠ, ΑΧΩ, ΣΝ, ΚΣ, ΚΑΨ team).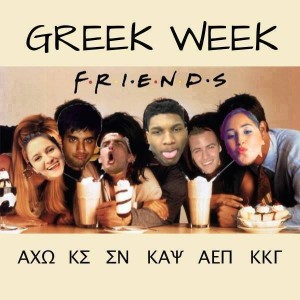 These five days are filled with different activities that offer opportunities to win your Greek organization's team points. For example, the Crawford Lecture was last night in the SLC, which featured writer Becca Stevens.  For each Greek individual who attended the lecture, 1 point was rewarded to their team.
However, the competition is far from over.
This Thursday, the Lambda Drag Show offers a new chance for members to rack up some points.  Delta Lambda Phi co-sponsors the event with the Office of LGBTQI Life and the Student Life Center. To say the least, this free event is a hoot, and anyone who attends is guaranteed to have a blast.
The next day is filled with activities for Greek Week. In the morning, Lunch on the Lawn allows students to invite their professors or faculty members to join them on Alumni Lawn. This event is a fantastic way to get to know professors, network, and get some points for your team.  Not to mention free food.
As evening approaches, Greek members can gain points by going to Lights on the Lawn. This year, the show features Borgeous, an American DJ and music producer. Tickets are $5, and the show is always top-notch in quality. The concert benefits the Mary Parrish Center, which serves survivors of domestic and sexual abuse. Even if you can't make it (which would be a shame), buy a ticket to support this important cause.
To tie it all together, Saturday is the Greek Day of Service, where each chapter presents 5-7 members to spend the day working at Friends of Radnor Lake, the Green Alley Project, or Avalon Hospice. Don't worry, you won't be sent off to do service without a belly full of complimentary Bruegger's bagels beforehand.
In short, Greek Week brings the entire Vanderbilt community together with socially responsible and entertaining activities that make it easy to get involved. If you're a hard-core believer in Greek Week or just stand with its message, you can buy a t-shirt for $20, and the proceeds go to Greek scholarships. Stay tuned for the 2015 Greek Week champion!