Here's the Scoop on Visions
As a college student, it is still 100% okay to get excited for free ice cream. So, when my VUceptor, Caroline, said that we were going to Jeni's Ice Cream for our Visions meeting, my whole group lit up with joy. I mean, seriously, who wouldn't want free ice cream after the stress of midterms?
We walked a few minutes off campus to one of the best ice cream places around and enjoyed each other's company, a little relaxation, and (of course) delicious desserts. I went with the Brown Butter Almond Brittle, and I highly recommend it when you get the chance. It's my go-to flavor there, and it never disappoints! (And make sure you get it with their freshly made waffle cones that disseminate a pleasant scent throughout the shop.)
Needless to say, the ice cream endeavor marked my favorite Visions meeting yet, but over the course of the semester, I've had some great times with my Visions group (Shoutout to Fantastic Four!). We've shared great conversations, many laughs, and Jake's Bakes– the best cookies in Nashville (food is a pretty significant theme in our group, as you can see). We're currently in a heated "stealthie" competition where we take pictures of each other when we see members on campus and post them in our group chat. As strange as it sounded when we first heard of it, it has turned out to be one of my favorite things about our group. It served as a great way to break the ice, and since then, the competition has taken an intense turn to see who can rack up the most points.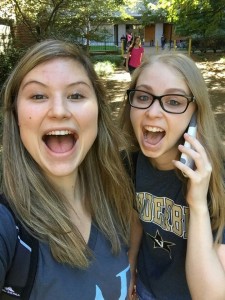 As a whole, Vanderbilt's Visions program works as a way to help first-year students expand their connections on campus, introducing all of us to new people whom we may not have met otherwise. Each Visions group has a student VUceptor (an upperclassman) and a faculty VUceptor who work to make our transition to Vanderbilt easier. In our weekly meetings, we discuss life at Vanderbilt (and as college students in general), learn about programs and resources on and off campus, and get to know one another.
As the only student to come to Vanderbilt from my high school, I didn't know a single person when I moved here in August. Of course, that didn't last too long with the endless handshakes and introductions, but Vanderbilt made the transition a little easier with my Visions family.
Stay well and be kind,
Elizabeth