An 'Ed'ifying Experience
Dear readers,
I'm back with punny (and hopefully not cringe-worthy) blog titles! I sincerely apologize for not blogging as frequently as I would have liked to, but the storm of midterms is upon all of Vandyland, and I got caught right in the middle of it. Thankfully things are easing off now, and there's SO much to write about, so many fun events happening on campus and around Nashville, that there's no excuse for me to procrastinate anymore. Without further ado:
Nashville is called the Music City for many reasons. Apart from being the hub of all things country music, it attracts talented musicians who play different genres of music from all over the US. Nashville also plays host to many famous musicians who perform in concerts attended by thousands of people. Moreover, many famous musicians and their famous families proudly call Nashville their home. Claudia can tell you more about running into Nashville's celebrities.
As someone who's learnt classical music for many years (piano, if you were wondering), I have been exploring my love for music through Vanderbilt and Nashville. I have gone to many classical music performances in Blair (my talented roommate, Sydney, is a trombonist and recently played Beethoven's Symphony No. 5) and have cheered for the now nationally-famous Melodores, but I had never been to a proper pop concert with thousands of screaming fans. My Nashville bucket list is ever-growing, so I decided to get started on checking items off it right away. I'm a big Ed Sheeran fan (who isn't?), and after some diligent research on Bridgestone Arena's website, I found out that he was going to be playing in Nashville on 13th September! Who said 13 is an unlucky number?
I called up my former West House hall-mates and now best friends, Caroline and Katie, and asked them if they wanted to go for the concert too, and they readily agreed (duh, it's Ed Sheeran). We bought the tickets over the summer (no procrastination there!), and before we knew it, September 13th had arrived. After a frenzied few weeks of running from new classes to club meetings, we all needed to break out of the Vanderbubble, and this concert couldn't have come at a better time.
It's hard to describe in words how absolutely amazing Ed Sheeran was, but I'll give it my best shot, and throw in a few bad quality videos (someone needs to give me a tutorial on filming with an iPhone 6).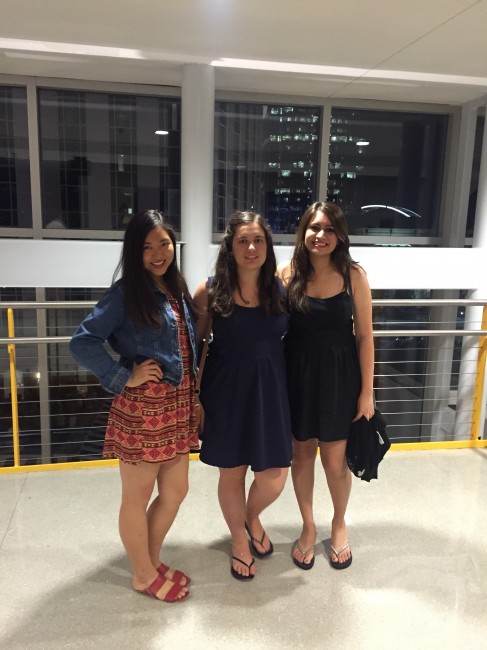 The show was sold out as expected, and Christina Perri opened the concert. I hadn't heard much of her music before (does A Thousand Years from Twilight count?) but after hearing her perform Human and Be My Forever, I'm her new fan. After a few more songs, the stage was set for Ed Sheeran, and the lights of a thousand phones illuminated Bridgestone Arena, everyone eager to capture a memorable picture of the world's cutest ginger.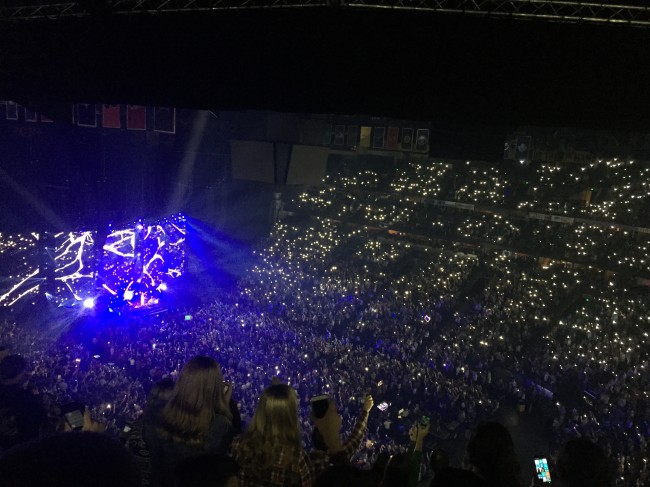 One of the best parts about seeing Ed Sheeran live is that he doesn't depend on dancers or ostentatious costumes. There are no surprise celebrities or elaborate stunts. It's just Ed Sheeran, strumming his guitar in his simple cargo shorts. But he's a powerhouse performer, and it doesn't take more than a few chords on his guitar to capture and sustain the attention of a thousand people. Ed opened with the soulful Photograph, and then played more foot-thumping hits such as Don't. I was very surprised with his rendition of Don't because it was slightly different (and in my opinion, better) from what's on his album, at least in its guitar chords.
Ed belted out many more hits, such as I See Fire, Sing, Nina, Thinking Out Loud, and I'm a Mess, and each song left me spellbound.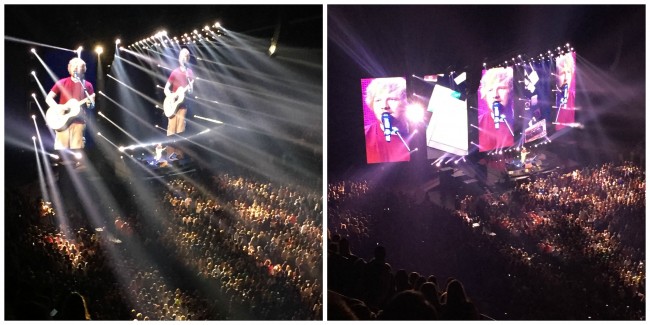 There were other precious moments in the show, including a proposal!
Ed also spoke to his fans, telling us about how he spent time around Nashville, which inspired him to write many songs. He said Nashville holds a special place in his heart, and that it was very gratifying playing in a city that values and celebrates music so much.
I had the most amazing time ever, and I would highly recommend popping the Vanderbubble and going for concerts by musicians who are famous or upcoming! There's talent in every nook and cranny of Nashville!