Déjà VU: A Second Year of Many Firsts
Forgive me for my love of punny titles! Anyway, I recently blogged about applying to Inside 'Dores, and reminisced about my very first blog post, A Year of Many Firsts. Keeping the tradition alive, here's to a second year of many firsts! (I'll try to stick to the original format as much as I can)
First (main campus) dorm. Although I loved living on the Commons, staying on main campus has many advantages. Now, I don't have to walk as much to reach my classes or club meetings that take place on main campus, on the other side of 21st avenue. The bookstore is just a few minutes away, and my favorite place to eat on campus, Grins Vegetarian Cafe, is next door. This year, I'm living in Branscomb in Lupton Hall with a new roommate, Sydney. While Commons has some of the best housing on campus, I'm very happy with my corner room in Lupton Hall, which was much bigger than I thought it would be.
First Visions group (as a VUceptor). This year, my faculty partner, Joe Rando, and I get to mentor 18 of the most amazing members of the class of 2019! In our Visions group #66, we have students from all over the U.S. and the world, and while we are still in the early days of the semester, our group seems to have bonded really well.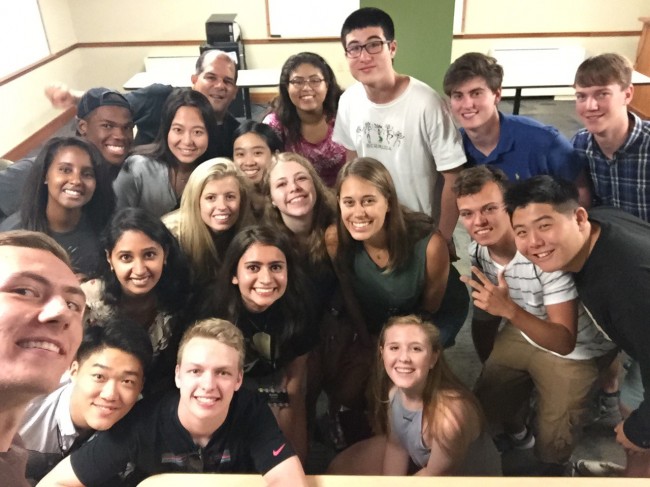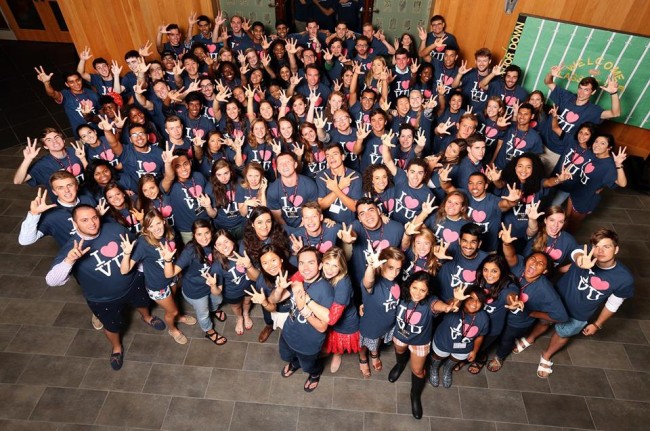 First classes (as a sophomore). I did briefly blog about the classes I am taking this semester, but now that I have actually attended them, I have so much more to tell you. I am taking five classes or fifteen credit hours this time. I am taking Financial Accounting with Professor Garber, and I am learning a lot of practical skills about financial statements and stockholder's equity. This class teaches us many useful things, and I am exploring the idea of adding a financial economics minor soon. I am also considering majoring in math, so I am taking calculus with Professor McKenzie. He's taught math for more than 50 years (wow!), and he's one of the most esteemed professors in the math department at Vanderbilt. Although I am not majoring in English, I am taking a class called Representative British Writers with Professor Wollaeger. Right now, we are focussing on the Restoration Period, and exploring the works of Alexander Pope and Samuel Pepys. Later, we'll also study Pride and Prejudice, my all time favorite novel. I am majoring in economics, so I have intermediate microeconomics with Professor Conley. To be honest, I'm a bit worried that this class will be a big jump from introductory economics, but so far, so good! Last, but definitely not the least, I am taking an honors seminar on science fiction with Professor Clayton. We have an eclectic mix of students from different majors and years in the class, so our discussions are a lot of fun. We recently read Nightfall by Isaac Asimov, and soon, we'll be exploring the works of Arthur C Clarke and other notable science fiction writers. Check out our class blog!
First tailgate/Anchor Dash (as an organizer). As you probably know, Vanderbilt is an SEC school, and we take football very seriously. So it's no surprise that one of the most special traditions for first-year students involves a tailgate and a dash (or as we call it, Anchor Dash) across the football field during the season-opening game. Having never attended an American football tailgate or game before coming to Vandy, I thoroughly enjoyed my Anchor Dash. This year, I got to run across the field with other VUceptors and high-five with Chancellor Zeppos. But before I got to do all of that fun stuff, other VUceptors and I were involved in the organization and logistics of this massive event. It was eye-opening attending Anchor Dash as one of the staff members and being a part of its planning. This time, Anchor Dash seemed much shorter, but so much more exciting because I got to attend it with my awesome VUceptees!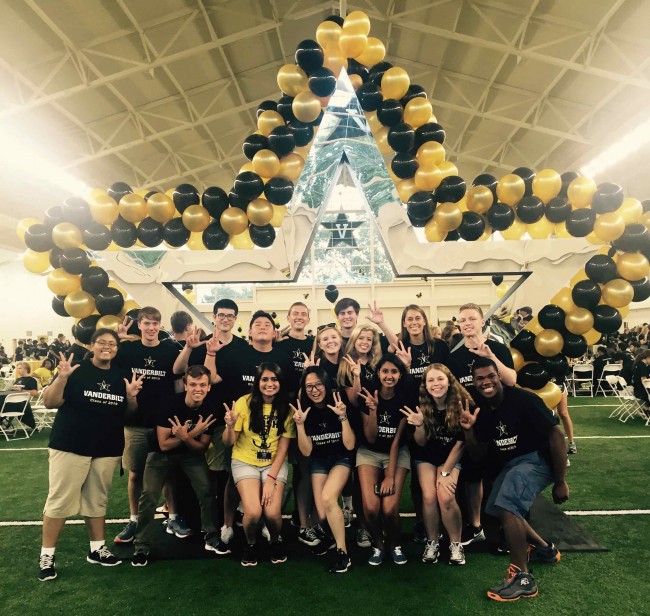 25th blog post (yay!). Blogging for Inside 'Dores has been one of the highlights of my time at Vanderbilt, and I can't wait to work with a new exec board and some new bloggers this semester!
Anchor Down!