Why you should be an Inside 'Dores blogger
Time flies. Only recently, we welcomed the newest commodores of the Class of 2019 to Vanderbilt, and seeing first-years finally arrive on campus made me realize how swiftly a year goes by.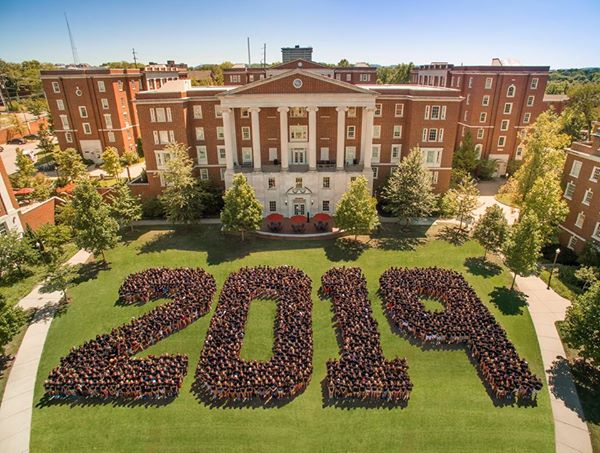 And now, it's that time of the year again! We are accepting applications to become a part of Inside 'Dores or in a fancier way of saying it, an official student blogger for Vanderbilt University! Joining any student organization has a plethora of benefits, but being an Inside 'Dores blogger is extra special!
You will be featured on Vanderbilt's website (and become famous!)
Each year, Vanderbilt attracts over 30,000 applications, and in today's day and age, high school seniors spend a lot of time on a university's website looking for application deadlines and other admissions information. The Inside 'Dores blog features prominently on Vanderbilt's Undergraduate Admissions website, and as a result, we attract a massive pool of readers. Blogging for Inside 'Dores helps you reach out to thousands of people who visit Vanderbilt's website, especially during the busy application season.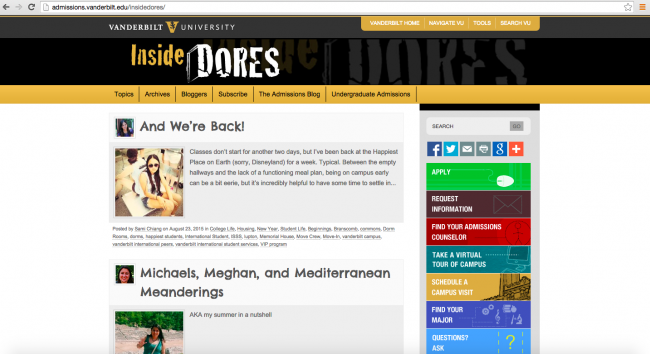 People send me emails all the time, telling me that they have read my blog, and that they would like more information about a certain topic. It gives me so much joy to know that my blogs are being read by people all over the U.S. and the world, and are helping them learn more about, in my (un)biased opinion, the best university in the world.

You'll help prospective students.
Before I came to Vanderbilt, I used Inside 'Dores as a resource to learn more about campus from a current student's perspective. The blog helped me learn about the vast array of opportunities at Vanderbilt, both inside and outside the classroom.
Over the summer, when I contacted one of my VUceptees for the first time, she immediately recognized me from Inside 'Dores and told me that she had read all of my posts, which had helped her through her application journey! Hearing things like that fill my heart with joy, and I feel grateful to be a part of Inside 'Dores.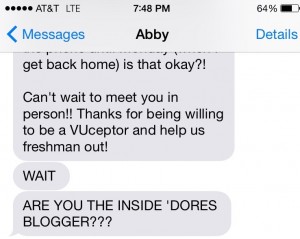 You can document your time at Vanderbilt creatively.
Before coming to Vanderbilt, I had never taken the time to document my memories in a diary entry or a blogpost, and I sincerely regret that. So, I decided to apply for Inside 'Dores, and make an effort to have tangible sources of nostalgia from my time at Vanderbilt. Sometimes, it doesn't even feel like I'm blogging for other readers, but rather for myself. When I'm 80 years old, I'm sure I'll have an amazing time reliving my Vandy days through Facebook photos and Inside 'Dores blogs.
You will develop your writing/blogging skills.
In college, you will mostly writef ormal papers with proper citations, but there are many ways to explore the powerful art of blogging. Inside 'Dores blogger Claudia wrote about her fashion blog for one of her favorite classes at Vanderbilt. This semester, I am taking a seminar on science fiction which asks for weekly blogposts. One of my friends took a class on sex and society with similar requirements. You too may be asked to post weekly blogposts for your classes or student organizations. Inside 'Dores is a great way to practice and build your blogging skills. I had never blogged before, but being a part for Inside 'Dores has helped me explore this aspect of writing.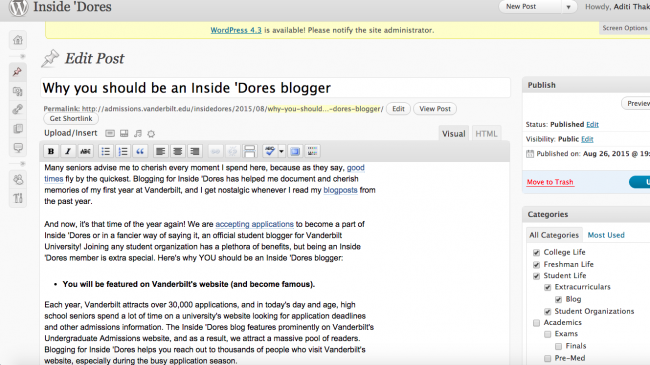 You have a lot of flexibility.
The only commitment for being an Inside 'Dores blogger? A minimum of 8 regular blogposts in a semester! That's roughly a blogpost a fortnight. As a blogger, YOU get to decide when to blog, where to blog and what to write about. I have blogged about multicultural events, classes, applications, animals, student life, and now blogging! Compared to some of the other student organizations, the time commitment for Inside 'Dores is minimal but with maximum outreach.
You will meet new people!
Joining any student organization is a great way to meet new people and make new friends. Although blogging is a solitary activity and we don't really meet up as regularly as other clubs do, we have had collaboration among bloggers before, and this year we have many new exciting plans for more blog series. We also have socials for Inside 'Dores every year, and this time we plan to have them more frequently.
Please email me at aditi.thakur@vanderbilt.edu if you have any questions about applying! Looking forward to reading your applications! Apply by 2/15!
Till then,
Anchor Down!