Reflecting Back on ASB
Hello friends!
Less than a week ago, the New York Times published an article about the Pine Ridge Native American Reservation in Kyle, South Dakota. The same reservation where I, coincidentally, spent my spring break on ASB two months ago.
ASB is all about the triangle, the three main tenants that we base our trips off of: Education, Service, and Reflection. I have definitely had time to process and reflect on the incredible experiences I had.
There are five different types of ASB sites: homelessness and poverty, health and wellness, animals and the environment, children and education, people with disabilities, and culture. Our site, officially titled "Hangin' Around" is considered a culture site. The very first time my trip group got together, we sat down to create a list of everything that popped into our heads when we heard that word "Native American." As the weeks leading up to the trip wore on, all the preconceptions and stereotypes that our list burst with began to fade away.
We started our journey to Kyle, South Dakota by getting lost. Thanks to a *slight* navigating mix up, we ended up south of Nashville instead of north and extended our 20+ hour drive. After hours of brief naps, car dance parties, a broad array of gas stations, and deep 2AM conversations, we settled in to the home we would be sleeping at for the week. The next morning, the twelve of us headed out with our tour guide to explore the reservation.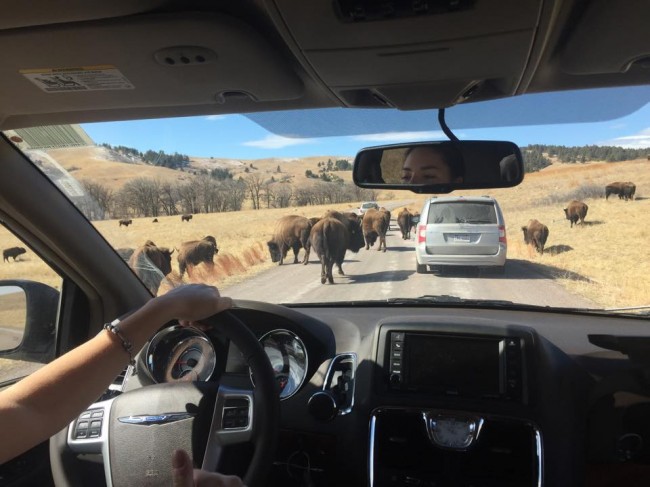 There's a startling juxtaposition on Pine Ridge: the reservation is simultaneously the most beautiful place I have ever seen and the poorest place I have ever been to. This idea hit me all week, like when we stopped to take pictures of the brightest blue sky extending on for miles over the plains after we left a school where the children we worked with would go to bed hungry.
On the reservation, we worked with a local K-8 school. Part of me left the trip feeling like we hadn't done enough. My hands still ached to work and I felt like the math tutoring I had done or the college talk I had helped to give was just scratching the surface. In the weeks since the trip, I have come to understand the full depth of the true service my site was called to do. Our job is to help break down those same preconceptions and stereotypes we once had in the communities we engage in and to spread awareness about places like Pine Ridge, the forgotten "third-world of the US."
I'm so thankful to have had the opportunity to go on ASB with eleven other Vandy students from all areas of campus. I met and worked with people that I wouldn't have known otherwise and those connections are absolutely priceless. Their compassion and caring along with their drive to learn remind me why my university is so special.
Much love,
Gabi