Portugal. The Man, Chance The Rapper, & Me!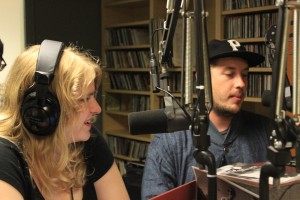 So this weekend was Vanderbilt's own Rites of Spring!
An on-campus music festival that brings in some real big names right before you have to start worrying about some real big finals!
This year, performers included Young The Giant, The Lone Bellow, and T-Pain–just to name a few.
Two of my personal favorite artists who performed at Rites were Chance The Rapper and Portugal. The Man…and I just happened to meet them both!!!!!
Chance played on Friday night, but there were rumors quickly spreading around campus that he was walking around campus Friday afternoon. Not daring to miss an opportunity to meet one of my favorite rappers, I skipped my last class of the day (sorry, Professor!), and went on a Chance The Rapper hunt with some of my friends. Okay, sure, this is a little (read: very) uncool to do, especially in a city like Nashville where you run into famous people on a pretty regular basis, but the fangirl inside of me took over, and I begin lurking around campus.
Somehow, this worked. Don't ask me how because I can only assume it was an act of fate. Chance The Rapper, along with his bodyguard and several members of The Social Experiment, just happened to walk by me and my Chance-watching friends. One of us asked for confirmation that he was, indeed, Chance, which he responded "yeah" to, and then made his way into GameStop. Sure, it wasn't the most exciting encounter, but it happened.
My more successful musical encounter of the weekend was a little more thought out. As I often rant and rave about, I am WRVU's events coordinator, which means I am responsible for securing interviews and in-studios for the radio station (it's the coolest job evah).
When I heard Portugal. The Man was coming to Rites, I went to work securing an interview with one of my favorite bands. Their manager was kind enough to work out an interview with Zach, Portugal's super hip bassist. IT WAS AWESOME. He was so nice, so cool, and even agreed to be my friend. You can read/watch/listen to the interview on WRVU's website, and you can hear the excitement in my voice (derp).
Needless to say, it was an incredible weekend of meeting super cool musical people, and I had to tell you guys about it. AWESOME!