Movie Night, Maggie Moo's, and Commons Lawn
First off, for those of you recently accepted to Vanderbilt Class of 2019, congratulations! I'll be the first to say that your everyday life will be radically different a year from today. That being said-you have so much to be excited for. Choosing Vanderbilt will hands down be the best decision of your life.
Think about a typical Sunday night of your senior year of high school. Maybe you had family dinner or homework to catch up on. I was the same way; Sundays were reserved for my PJ's, mom's home-cooked meals, and the homework I had neglected on Friday and Saturday. Odds are that your senioritis has started to hit really hard.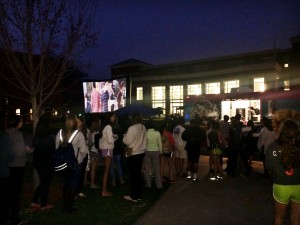 However, you'll find that in college, there's always something happening on campus–even on a Sunday night. For example, tonight there was a 7 pm movie on Commons Lawn. The night began with a special performance from The Melodores. Yep, the same Melodores that won the Sing Off. Students from all houses carried blankets out to the lawn and set up for the night. Right outside my dorm there was a giant movie screen airing Pitch Perfect, Maggie Moo's Ice Cream food trucks, and Jake's Bakes (you'll quickly learn the beauty that is late night delivered Jake's Bakes). Sidenote: free food is EVERYWHERE in college. You will never be hungry.
Of course, there are those nights where you have a test or paper due the next day (everyone will have A LOT of those nights) so the events on campus aren't always doable. However, the days of sitting bored on your couch after school are about to be long gone. At Vanderbilt, you live maximum five minutes from your bestfriends and have all of Nashville to explore. Pick Vanderbilt and I can promise that a year from today, you'll look back and thank yourself. Hey, who knows? You might even be on Commons Lawns eating Maggie Moo's with your Vandy best friends.