Keep Calm and Apply
As my fellow blogger James mentioned, February is the time to apply for many different positions. For many college students, this is the the time to send in applications for jobs, graduate schools and internships. Apart from these external applications, there are many positions at Vanderbilt itself which have deadlines towards the end of the fall semester or the beginning of the spring semester.
At the beginning of my first semester at Vandy, there was a big student organizations' fair on Commons, encouraging freshmen to be involved on campus. Most organizations do not require new members to submit an application or audition (unless you want to be a blogger, an actor at the Vanderbilt University Theater or a Bhangradore etc). However, the leadership positions in these organizations do have an elaborate application and/or election process.
Here are some of my experiences with applying for some of these positions on campus:
Vandy PAWS. I have always been an animal-lover and therefore I became a member of the Vanderbilt Protecting Animal Welfare Society, popularly known as Vandy PAWS, soon after coming to campus. In December, a few spots on its executive board opened up and I decided to apply for the position of Social Chair. After submitting a comprehensive written application, I was chosen as the Social Chair and now, I am in charge of its social media presence (shameless plug: like us on Facebook please!) and Anchorlink. The written application for Vandy PAWS was pretty straightforward, but contribution and dedication to volunteer opportunities (PetSmart, Freedom Farms) also played a major role.
Honor Council. Before studying in the US, I had not had any experience with the Honor Code. While my high school in India did have stringent rules for academic integrity, we did not have a separate organization or department dealing with such issues. During my Visions meeting, our VUceptors gave us a glimpse into the Honor Code at Vanderbilt but I wanted to experience its enforcement first-hand. So, I decided to apply to be a member of the Honor Council. Its application was very elaborate and therefore, I have divided into three rounds.
Round 1: In December, we were invited to submit a written application, which was quite detailed. Apart from the usual questions asking us why we were applying and how we could contribute, there was also a case study about honor code violations. After studying it, I answered a few questions about dealing with such cases, in accordance with the Honor Council procedures. In January, I was notified that I had made it to the second round of applications.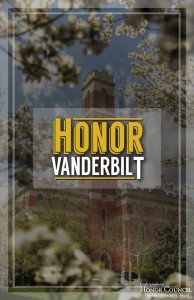 Round 2: The second round was the interview. The interview was not informal (we were asked to dress in business attire, which necessitated a trip to the mall!) but the Honor Council members made me feel at ease and asked me general questions, rather than quizzing me on specific procedural details about the working of the Council. A week later, I was informed that I had made it to the third round of applications. Not done yet!
Round 3: Next came the elections. I was a bit nervous about this part because candidates were not allowed to campaign. Also, for freshmen candidates in the College of Arts and Science, there were 1000 other freshmen voting on Anchorlink! However, all's well that ends well because later that afternoon, I got an email notifying me that I was officially an Honor Council member. The selection process was very detailed and elaborate, but that just shows how seriously the Honor Council takes its work.
VUcept: You may have read my blog about VUcept/Visions from the perspective of a VUceptee before. Now, I am a VUceptor (time does fly!) and I cannot wait for the fall semester when I get to mentor 18 first-years! Honestly, there is a lack of international student VUceptors and that was one of the many reasons I wanted to apply to become a VUceptor. Transitioning from high-school to college is not easy and being an international student literally thousands of miles away from your comfort zone can be hard. As an international student from India, I know the challenges of adjusting to a new academic and social environment. But my student VUceptor Rebecca, with her warm and helpful nature, made my transition so much easier; I wanted to do the same for another student too.
Round 1: The first round was a written application. While we did have the usual short essays, we also had to upload a resume. Although I did not have a resume and did not know how to even get started on one, I visited the Center for Student Professional Development (CPD), and they helped me draft and edit my resume. After a very helpful appointment at the CPD office, I left with a complete resume, feeling very much like an adult (although I was 19 already!). I also needed a faculty recommendation so I turned to Dean Frank Wcislo, my faculty VUceptor. Dean Wcislo is one of those rare people who offer to help you even before you ask. In my last Visions meeting, even before I had thought about applying, he had told me not to hesitate in asking him for a recommendation.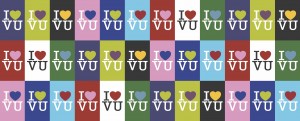 Round 2: A few weeks later, I was informed that I had been shortlisted for the interview round. I asked Rebecca for interview tips and even though she is studying in Morocco this semester (check out her amazing blog), she sent me a very detailed email full of helpful tips. After a week long delay due to inclement weather (more time for prep!), I was finally interviewed in Commons. One of my interviewers was Jackson, my dance partner in Diwali, so I immediately felt at ease. Apart from the typical questions similar to the written application, there were a few situational questions (What would you do if so and so happened?). A few days later, I was lucky to receive an email notifying me that I was one of the 92 student VUceptors!
Housing. Of course, you don't always get what you want in life and so far, my luck in the housing application process has been rather unfortunate. One of my top choices for housing, the living-learning community at McTyeire Hall, wait-listed me after a written application and a dinner interview (I got off the wait-list though). While things didn't work out for me initially, I am glad I applied because I got to experience the dynamic community at McTyeire, and I encourage all students to apply for this hall. Next, I applied for a double in Kissam and after a random lottery, I didn't get into Kissam too. I'm hoping that third time's the charm when I apply for other housing locations after spring break. Fingers crossed!
Although other amazing organizations such as Tour Guides, the Vanderbilt Programming Board and the executive board of the Multicultural Leadership Council had applications too, I decided to not apply for them as I just don't any more time in my schedule, with my other academic and extra-curricular commitments.
Applying for different leadership positions on campus has helped me hone my writing and interviewing skills. Although completing so many applications did seem daunting at first, I learnt a lot by interacting with different students, faculty members and administrative staff at Vandy. I also got the opportunity to visit the CPD office, which I will surely frequent when I apply for internships, jobs or graduate school in the coming years. Till then,
Anchor Down!