How to be a (Vanderbilt) Hustler
When you call home and tell your parents that you started working for The Hustler, some awkward pauses and concerned questioning probably commences. Fear not, The Vanderbilt Hustler is a weekly publication that you can find in any of the Vanderbilt buildings. So, working for the Life section of The Hustler isn't sketchy in the least. In fact, it's probably one of my favorite things I do on campus.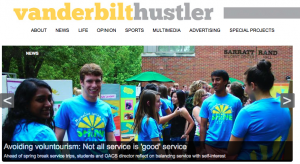 In high school, I was an editor for my high school newspaper. Obviously, the experience is much different at the collegiate level. Instead of your high school journalism teacher begging people to write another article on cafeteria food, you have fellow students pitching ideas from controversial to light hearted topics and everything in between.
Coming to Vanderbilt, I returned to my freshman year position of reporter. As a writer for Life, I can cover fashion, music, food, culture, or basically anything I (or other Vandy students) might find interesting.  I can write about topics that I find entertaining and attend events that I otherwise wouldn't be able to. For example, I get free tickets and a press pass to the Clean Bandit concert in Nashville to do a writeup…. not bad.
The best part? The Hustler meets once a week on Sundays to assign articles to reporters, so the time commitment is as much as you make it. On Tuesday nights, the editors all cram to crank out the issue and all the writers are allowed to witness production; food is always abundant and necessary for the late nights. The atmosphere is very laid back and relaxed; everyone is dedicated yet sociable, and people from all schools are welcome to contribute to The Hustler.