Snow Much Fun
I. Love. Snow.  If you haven't heard already, Vanderbilt bequeathed us with two blessed snow days this week.  Yes, we did take full advantage of these days.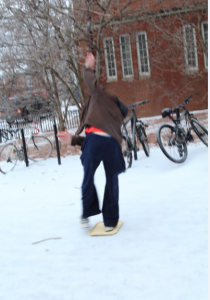 We had seen the weather reports on the interwebs on Sunday.  And by Sunday night, just ask my friends, I was literally running around screaming with excitement.  No joke.  We were predicted somewhere between 3-10 inches!  Of course, I knew that actually meant more along the lines of 1-2 inches, but snow was inevitable. I could finally fulfill my dream of sledding down our hilly campus on a borrowed lunch tray from Rand.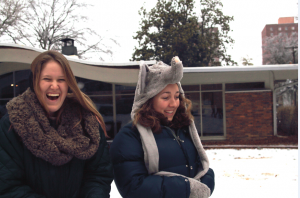 Monday morning rolled around, and of course I didn't go through my normal, sleepy wake-up routine of groggily sitting on my bed and stretching and padding to the bathroom.  No.  I was wide-awake and ran down the stairs.  WHITE EVERYWHERE.  And at 7:30, the email from the Dean arrived in our inboxes: classes were cancelled!

A few of us BCM folk, carrying a trusty, borrowed, yellow tray from the dining hall, decided to take a walk through our campus' wintry wonderland in the afternoon.  We slipped a little, pretended to stab each other with icicles, and watched some people play some tray hockey on Alumni.  Traversing to the paths in front of Central Library, we pushed each other on our makeshift sled down the sloping sidewalks.  Some random people started to take our pictures because we are such fun people, and we think they were from Vanderbilt, so we smiled for a group photo.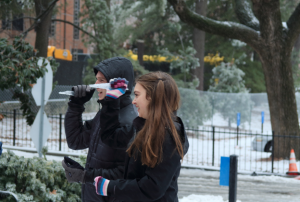 The trees in front of the Management Building were beautifully iced, and then we walked up 21st to look around Commons.  People had taped together two Commons trays to make snowboards and were racing down the paths in front of Wyatt.  A super steep hill on the side of Gilette – we may as well call it the face of a cliff – tickled our inner daredevils, so we slid down this treacherous path.  Forwards, backwards, face-first sledders, we were lucky there was a bush in front of the side of the building that worked as our crash pad.  That bush will probably grow back in the spring.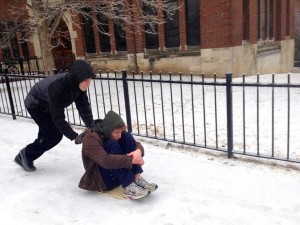 After this, we hurried on back to the BCM to revive our numb extremeties by drinking hot chocolate and eating warm apple muffins around a fire.  'Twas a very snowy day.