Snow Day: Take 2
I like to think of myself as a Northerner at heart:
I love the cold and snow.
I walk at a brisk pace everywhere.
I do not waste time dawdling in the middle of a sidewalk or an aisle
I refuse to say "y'all"
I'm not a fan of country music, and
I highly prefer unsweetened tea over sweetened.
Having school with snow, ice, and slush on the ground, however, is not one of those aspects of the North that I love. I'm from Houston and I transferred from the University of Texas at Dallas. I'm just so used to school being cancelled whenever a single magical yet foreign snow crystal falls from the sky. I'm used to the city closing off streets and cancelling work days because they are completely unprepared for dealing with the mysterious white powder and the slippery cold stuff that covers roads. No snowplows or road salt to be found there.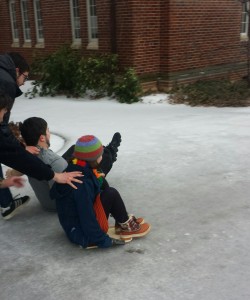 Going to school in the South has its perks, and I think this is the biggest in my list. Not having to worry about taking an exam because of a few inches of snow and ice is the best thing in the world. I get to relax in my warm dorm room, sipping hot coca and watching my favorite TV shows after taking a nice, hot shower. I get to marvel in this Frozen-esque beauty outside my window without being bogged down by thoughts of papers due or upcoming exams. Perhaps Elsa actually lives in the United States and this is when she accidentally freezes everything — only we're not complaining!
On a more serious note, there are downsides to the hazards of iced roads and the cold, such as increased risk of life-threatening accidents, power outages, and hypothermia. In fact, Nashville has recently declared a state of emergency.
The biggest downside for Vandy students during a time like this: the food shortage. Yesterday was a complete scramble to find any nearby restaurants that were open, and I didn't appreciate walking 5 minutes in the cold. On one hand, it's great that Vandy closed most of the dining facilities and were mindful of its employees; on the other hand, it left us to hunt like our prehistoric ancestors.
Oh, well. When life gives you lemons….