A Very Vandy V-Day
Single on Valentine's Day? Usually I'd say that's excuse enough to buy mass amounts of chocolate, watch Netflix, and lay under the covers in sweatpants without feeling a pang of guilt. HOWEVER, due to the abundance of activities, no one in Nashville/Vanderbilt campus has reason to wallow, whether single or in a relationship.
In Nashville, there are numerous 5k's and 15k's such as Cupid's Undie Run and the Hot Chocolate 5k. Did I plan on waking up to run? Yes. Did my roommate and I sleep through the 8 am alarm? Yes, yes we did. The races went on and many Nashvillians showed their Valentines Day pride, even if we missed them.
So, skip to part two of my "galentine's" day at the Green Hills Regal movie theater. After a romantic roommate luncheon, we hit the movies. Although almost completely full of single women, the 12:30 pm theater was the perfect midday activity.
Around 4:30 pm, we awaited the Vandygram delivery to one of our close friends. Earlier in the week, AEPi sold bags of chocolate and serenades in Commons Center that would be delivered on Valentine's Day. The proceeds went to the Save a Child's Heart Foundation. Our heart-filled day was far from over.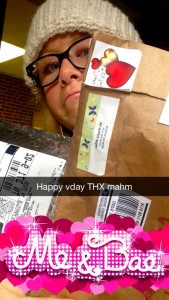 Commons Dining sponsored a white table cloth dinner (oooooo… aaaahhhhh…) with steak, potatoes, heart shaped sugar cookies, and fondue. Who needs a date? After all, one entrée and two sides just isn't enough for two and who wants to waste a flex meal? Not me.
The moral of this Vandy V-day story is that single or enamored, Music City has something to offer for everyone– even the girl in sweatpants who gets flowers delivered from her parents.