Wacky Wednesdays
After what usually ends up being a late night of newspaper production every Tuesday for
the Hustler
, I wake up on Wednesday mornings a little more tired than usual. Unfortunately for me, Wednesdays happen to be my busiest day of the week this semester, with not one, not two, not even three, but FOUR classes, plus weekly
Music Group
meetings in the break between them.
But thankfully, one of my sweet suitemates has a similar situation, and we've started what I'm hoping becomes a hump day tradition to recharge after our packed Wednesdays.
After getting out of my
Intro to Ethics
subsection at 5, I meet Margaret outside of
Tridelt
, where she is a member/occasional user of parking spaces. 
From there, we drive (well, she drives, I distract her from the roads) into The Gulch, which is one of my favorite trendy little areas in Nashville, to go over to barre3, a new barre studio with great classes. I'm a big fan of working out right after my classes are over — mostly because if I don't do it then, I never will — and barre's a great way to do some toning without getting too sweaty (Wacky Wednesdays don't break for showers).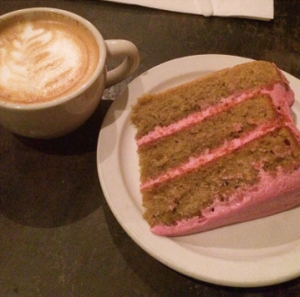 After our hourlong class we drive over to Hillsboro, near Commons, and meet another suitemate, Dana, at Fido — a fan favorite among Vandy students and Nashville natives alike. We grab some dinner and some of their specialty lattes, and after a little chatting, we hunker down and work on whatever assignments we have for the next day (for me it's usually Greek Civ reading). With Fido open until 11, we can stay late, get snacks, turn to chat when we need a break, and get a welcome little break from campus life.
In high school, studying like that was something I rarely got to do — most of my work was accomplished on my desk or kitchen table — but that's another perk of going to school in a city like Nashville. Even a block away off campus you'll find good food and better coffee, and a welcome change of pace.