Redefine
I often get asked, "What do you love about Vanderbilt?"
If you have been reading my posts, you can fairly accurately guess my somewhat predictable answers: the people, academics, student organizations and of course, the Commons experience. A harder and more unusual question would be "What do you NOT like about it?"
Of course, nothing is perfect but in my definitely un-biased opinion, Vanderbilt comes pretty close to it. However, if I did have to pinpoint one aspect of Vanderbilt that I don't like, it would have to be the fact that there are just just too many things I wish to do in each day's 24 hours. I get emails from various organizations every day encouraging me to attend events and apply for different positions. Unfortunately, I end up deleting most of them as I cannot fit everything in my already packed schedule. This is the dilemma of many Vandy students. Yet, one email from the International Student and Scholar Services (ISSS) and the Office of Active Citizenship and Service (OACS) caught my eye and I simply could not let go of this opportunity.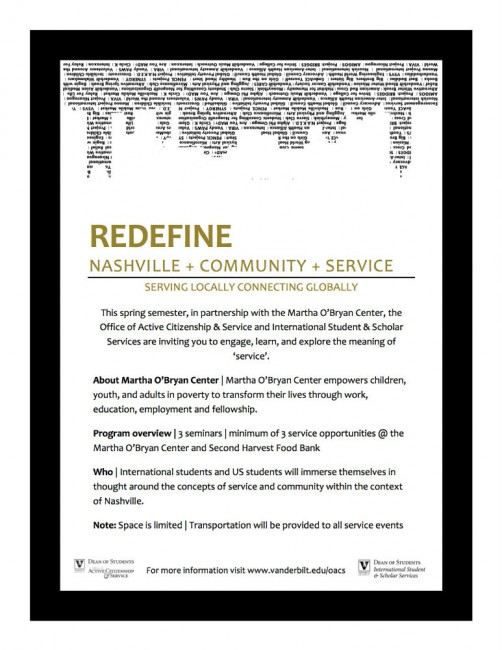 ISSS and OACS, in association with the Martha O'Bryan center, have launched a service program called Redefine that aims to connect domestic and international students to discuss the concept of service across different countries as well as participate in service events at the Martha O'Bryan center.
A little about the Martha O'Bryan center: It is an organization that seeks to "empower children, youth, and adults in poverty to transform their lives through work, education, employment and fellowship." At Vanderbilt, many of us get trapped in the Vander-Bubble with all its luxuries. The only parts of Nashville I see are its developed downtown area and the scenic beauty of Vanderbilt and its neighboring localities. Therefore, it is hard for me to imagine that there are still pockets in Nashville where poverty and food insecurity continue to exist.
Poverty is a part of many Indians' lives and I have personally seen people struggling to make ends meet. In fact, a slum is located right next to my elite high school in New Delhi, and I have interacted with many underprivileged children in after-school tutoring programs. Yet, poverty is not something that normally comes to my mind when I think of the U.S. But even in all its first world glory, the U.S. is no stranger to poverty.
In order to learn more about poverty in Nashville, especially in Cayce Place, the current site of the Martha O'Bryan center and to interact with other students who are passionate about service, I decided to apply for Redefine.
The first part of the program was a seminar that focussed on what service meant for people from different parts of the world. In Redefine, we have students, both undergraduate and graduate, from all corners of the US and the world ,and therefore it was interesting to observe the similarities as well as differences in the meaning of service in various countries. We came up with key words that defined service and talked about our personal experiences in volunteerism.
After a stimulating discussion led by David Brown (from OACS), Heather Jones (from ISSS) and Catherine Kelly, a graduate student worker in OACS, we were introduced to Adriana Flax of the Martha O'Bryan center, who gave us a glimpse into the mission and the activities of the center. While I admired the tenacious efforts of all the volunteers involved in this program, I could not help but be startled by some of the facts that Adriana presented to us. Did you know that in Cayce Place, 96% of children and 74% of adults live in poverty?
These figures may seem disconcerting, yet the Martha O'Bryan center is making strides in improving the lives of hundreds of children and adults, providing them with numerous opportunities to uplift their lives. I am glad that through the Redefine program, Vanderbilt has taken the initiative to encourage students to step out of the Vanderbubble and engage with other, less fortunate communities in Nashville.