MLC's Masquerade Gala
I had always wanted to be a part of the Multicultural Leadership Council (MLC) at Vanderbilt because it showcases and celebrates the diversity at Vanderbilt. Although I did not get a chance to do so during my first semester, I wrote to Danielle McKeiver, a sophomore heading MLC's freshmen program, FreshIDEAS, and she invited me to attend MLC's meeting a few days after the spring semester started.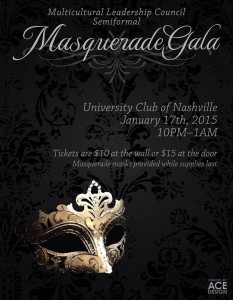 During the meeting, we discussed the planning of MLC's semi-formal, The Masquerade Gala, an event we modeled after the famous Met Gala, one of the most exclusive events of the year. What made the event even more special was the fact that its venue was the University Club of Nashville, not a usual place for Vanderbilt's events. In fact, before the gala, many of us had not even ventured inside the club, choosing instead to admire its beautiful ballroom through the glass windows.
Even though the Executive Board had planned every detail meticulously, my fellow first-years and I helped set up the venue for the gala. Black and gold balloons, intricate masks, candles and feathers in hand, we decorated the ballroom for the gala. Is this what competing on Top Design feels like?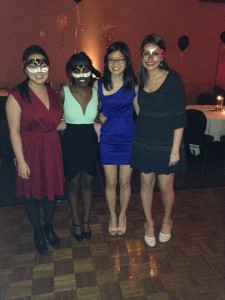 After the ballroom was decorated, we headed back to Commons to get some rest before an eventful night. After catching up on some homework and Downton Abbey, I donned a silver mask and met up with my friends and fellow MLC members at the University Club.
Slowly, other Vanderbilt students trickled in, dressed in their finest attire and beautiful masks. Over 170 students representing the various cultural organizations that make up the MLC as well as students from all over Vanderbilt attended the gala. I ran into many friends whom I had not been able to catch up with since winter break. I also saw my fellow blogger, Alisha.
MLC's president Aditya Karhade was the DJ of the night and in no time, the dance floor was fully occupied. There was a photo booth set up to capture the special moments of the night.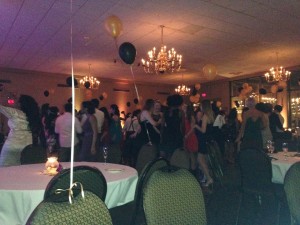 One of the best parts about Vanderbilt is that there are so many student organizations on campus (well over 500) that allow you to contribute to the university and Nashville. Wherever your passion may lie, be it animals, debate or app-designing, there is something for everyone on campus to be a meaningful part of. Of course, getting to know people, making friends and expanding your social circle by joining student organizations are other great reasons to get involved on campus.
Even though I had just become a member of MLC only last week, planning the gala and attending it with other members helped me become friends with students from diverse backgrounds. Of course, attending my very first masquerade gala was the icing on the cake.