How Finals Week 1 Came To Pass
It's almost been a week now since I sat for my last final exam. With my mind in a desperate search for ideas for a blog post, I thought it wouldn't be too bad to share a few words on what went on with my life from December 5 – 11, 2014 – my first finals week in college.
A little background, first of all. This semester I had Organic Chemistry I (Chem 218a) with Lab (Chem 219a), Accelerated Single-Variable Calculus II (Math 155b), English Literature and Analytical Thinking (Engl 102W) and French Composition and Grammar (Fren 201W). Academically, my semester was as daunting as this course listing looks!
So this is how my schedule for finals week lined up. It is actually the weirdness of this schedule which prompted me to write this blog post! (The English class had a final paper due before finals week.)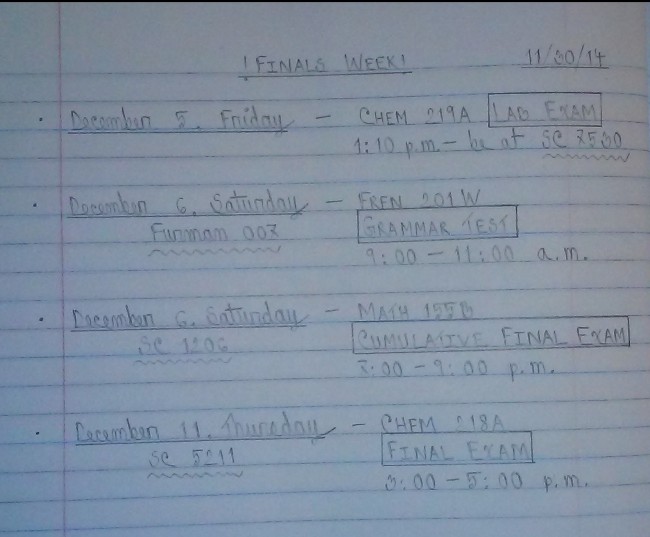 So, as you can see from this planner entry, I literally had three finals in the space of two days! The worst possible start to finals week, so to say.
I will pause my narrative to add a note here. It IS actually amazing how Vanderbilt manages to make sure that every student has a minimum level of quirkiness in their finals week schedule. Talk to a Commodore during finals week, and you can almost listen to the whine every time. I am not whining here, though. What I am trying to say is this does not make you feel lonely at all. All this actually makes you feel stronger that you are not alone. The level of togetherness that you feel at Vanderbilt during finals week is probably one factor in a very long list of reasons why Vanderbilt has the happiest undergraduates in America.
Back to the narrative now. So, on December 4, I was going through my lab notebook when I began to think about how my next 48 hours would unfold. All on a sudden I was staring at my grammar exam paper in French, and I was crying in front of the whole class because I could not understand what I was supposed to do. And before my tears dried up, I blanked out during my Calculus final exam. When at last my brain started to click, time was up. The professor approached me gently, asking for my exam paper, but I kept on writing. He pulled at my paper slightly. I tried to hold on, but the paper dropped to the floor.
"Hey, are you alright?" My roommate asked. I looked around me. My lab notebook was on the floor. I rubbed my eyes and grabbed my cellphone. It said "9:06 p.m. Thursday, December 4." Wait, what?
Fortunately enough, the first two days of finals did not come close to being as horrendous as the nightmare predicted. Relieved, I had four days to face the last hurdle – organic chemistry. Not that I succeeded perhaps, but I had no more nightmares and I was happy to see the end of my first semester – a semester of "many firsts", as my fellow blogger Aditi would put it.