Hidden Gems: Underrated Vandy Study Spaces
Ok. It's 10AM, you slept later than you meant to, you have a paper due at 3PM and two finals in the next three days. Central Library is already crowded. The booths in Rand are taken, and it's late enough in the semester that you've already realized your room is NOT a productive place to study. You've already hit up Starbucks for your morning coffee (venti, please) and that was crowded too. WHERE CAN YOU GO?
Check out these spaces that were my home during finals week:
Upstairs Rand. The whole open room OR, even better, the conference rooms. There's one really fabulous one next to the OACS Office. (It's Rand 304. I know this by heart. I've spend days in there this past semester.) But it's usually quieter than downstairs, nice if you want to be close to meal plan food in Rand, and there are big tables.
Wilson. Because Wilson is far from most dorms (except Warren and Moore), it's not usually too crowded, and there are fabulous classrooms there with projectors, whiteboards, and plenty of room for a good study group.
Kissam Center. Since it's a new building and the College Halls only house about 700 students, the Kissam Center is usually pretty under-utilized, at least it was this past finals week. The open rooms have comfy chairs and fires, which made studying a little bit cozier and more relaxed, and there are some quieter rooms upstairs that are great for efficient studying!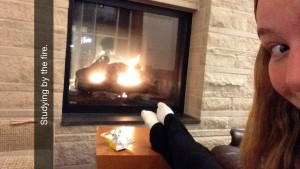 Commons Center. Ok, I've raved about this in the past, but WOW. I have missed studying in upstairs Commons so much. I went back for a morning of studying for my cognitive psychology final, and it was so lovely. It's quiet, near food and coffee, and very light! Definitely take advantage of this freshman year and if you're in Peabody, I highly recommend studying up here often.
Alumni Hall. I raved about this last year too, but Alumni is super nice, quiet, and light. It's centrally located on main campus and the best study rooms are right above Bamboo Bistro, a tasty campus dining location!
Atmalogy. This super cute café is on West End right across from Towers, and it's actually not as hidden as the rest of these. BUT there are comfy rooms, pillows and swinging chairs and their tea is fabulous.
Also shout out to this list another blogger posted last week. These spaces are all also phenomenal. Enjoy your winters and good luck finding your own fabulous locations!