Family Time
Now that I've been home for some time and get the chance to reflect on my past semester I realize more and more that I wouldn't have been able to take on the 18 hours of coursework that I signed up for if it weren't for all of the families that I get to be a part of on Vanderbilt's campus.
You might be asking:
"…families?"
Aha.
"… plural?"
Yes.
"…Like extended family? "
You could call it that.
One thing that I found myself having to make clear in my conversations with friends on campus throughout this past semester was the concept of "family" because truth be told I belong to many families on Vanderbilt's campus and it's because of these families that I can say that I made it through a rigorous 18 hour semester at Vanderbilt. They have been the people that have helped me keep my head above the waters, were there for me when I needed a break from school work or a person to laugh or debate about life with, and they are the ones that motivate me to be a better person and to look at the bigger picture of my life at Vanderbilt. Here's a couple of my families and why I appreciate having been a part of them this past semester.
1. Sigma Phi Lambda
This semester I joined Sigma Phi Lambda, a non-PanHellenic and Christian sorority which stands for "Sisters For the Lord." Early into my decision to be a part of Phi Lamb (our nickname for the sorority) I was assigned to a "Phamily" and a "big." This was all very new to me. A "big" who is the same age as me? A family consisting of all-girls? I was confused about what exactly it would mean for me to be a part of this family. However…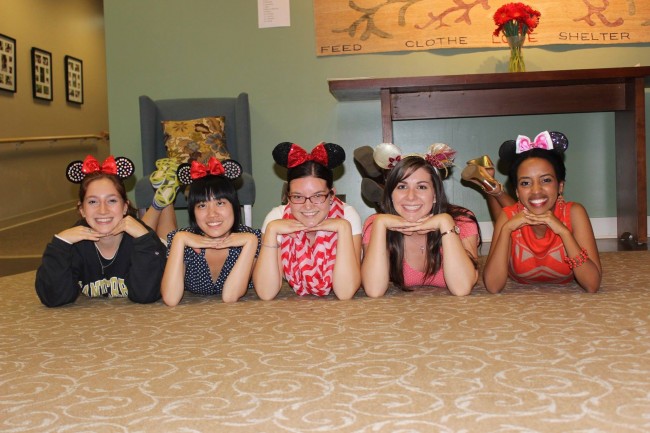 Why do I appreciate this family?
At the end of the semester I can definitely say that my Phi Lamb "Phamily"- both the specific family I belong to (pictured above) and the wider Phi Lamb family at Vanderbilt has been key in keeping me and my Christian faith grounded during the very busy semester that I just finished. Getting to go to our chapter meetings every Monday night and spend quality time that is grounded in a common faith with other girls is something I looked forward to every single week and that I'm going to miss during winter break until the start of next semester. This sorority and this group of girls has been a true blessing for me this past semester and I look forward to being a "big" in the coming semester and continuing to grow the Phi Lamb family.
2. Alternative Spring Break
Alternative Spring Break (ASB for short and because in college we like acronyms and shortened phrases) was actually one of the reasons that I fell in love with Vanderbilt when I first toured the school as a high school student. This year I get to be part of the ASB family for the third year in a row and a Site Leader, or SL (again with the acronyms), for the second year in a row. For the past two years I was part of the "KIDZ" family- the group of ASB sites that work with issues pertaining to children, young adults, and education. However, this year I get to be part of the "Culture/Cultura" family (before known as the "Folk" family). Every week since I found out that I was a SL for the site named "Where is the Love?" (WITL for short…yup, more acronyms) in Chicago, IL I have been hanging out with and attending meetings with all the other SLs that will be leading sites that deal with issues such as poverty, violence, and immigration that affect the lives of people from diverse cultures and minority backgrounds in our country and abroad.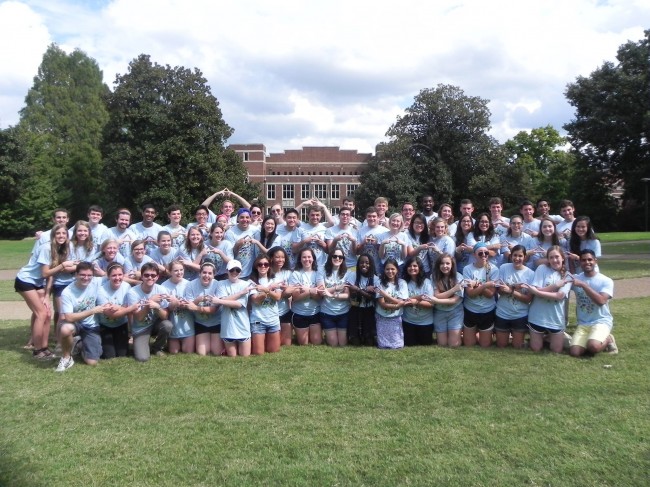 Why do I appreciate this family?
Their love for service and their ability to remind me of why ASB means so much to me never fails to refresh my outlook on my life at Vanderbilt. Talking to these SLs, hearing their stories and ideas, but most of all seeing their passion for service and the issues that their sites will be dealing with remind me of how fortunate I am to attend a university with amazing, talented, passionate, and driven students. It's also in talking about these issues that we're passionate about that I get to reflect on how blessed I am to be at a university that has given my family 100% of its demonstrated financial need in order for it to be financially possible for my parents to send me to Vanderbilt, that gives me opportunities such as ASB to give back to the community, that has so many organizations that allow me to pursue my non-academic interests, and that is giving me an education that challenges me and that reinforces my passion for education and one that I know I share with many other education majors.( Check out Gabrielle's post about her experience as an education major).
3. University Catholic
In a past blog post I talked about my weekend staffing the Nashville Awakening retreat that is hosted by University Catholic. However, one thing that I failed to mention is that I got to be a mom on this retreat. A mom?? Yup! I had a husband (shout out to Nicholas Rankin, my music-majoring, Belmont-going, Awaka-Husband) and five children! Getting to know this family throughout the retreat was a great experience and key to the time I sent this semester on Awakening. However, since the retreat we've had more chances to have family time, primarily every Sunday night at Sunday Supper which is a free, home-cooked meal offered at the Frassati house (University Catholic "headquarters").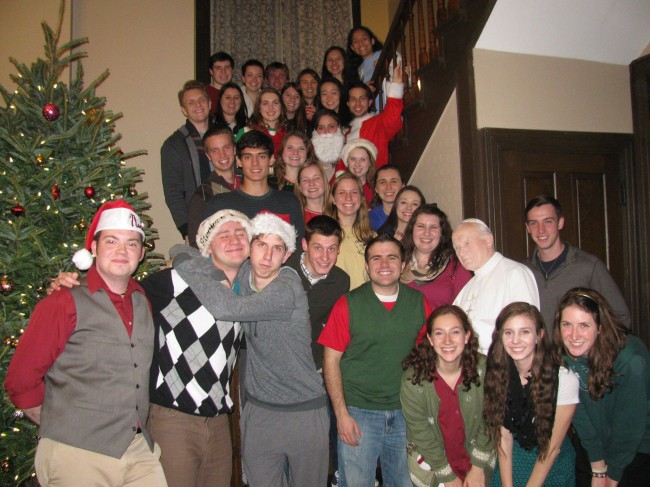 Why do I appreciate this family?
I appreciate this family, as well as the larger University Catholic family, because of the spiritual support they provide me as a college student. Being part of this family and of the larger UCat community (bring on the acronyms again) has been key to my spiritual life at Vanderbilt. I know that I can turn to this group of people and to other smaller "families" within UCat, such as the girls in my Bible study, for prayers and other forms of spiritual support. It's because of this community that I have grown immensely in my Christian faith through interactions with other Catholics and Christians from Vanderbilt and surrounding universities and the programs and events that UCat hosts.
4. The Cohort
"The Cohort" is the group of Class of 2016 Elementary Education majors at Vanderbilt. We have a GroupMe (an app for group messaging), we saw each other every day in our education classes this past semester, and share a great passion for education and the kids we will be educating in the future.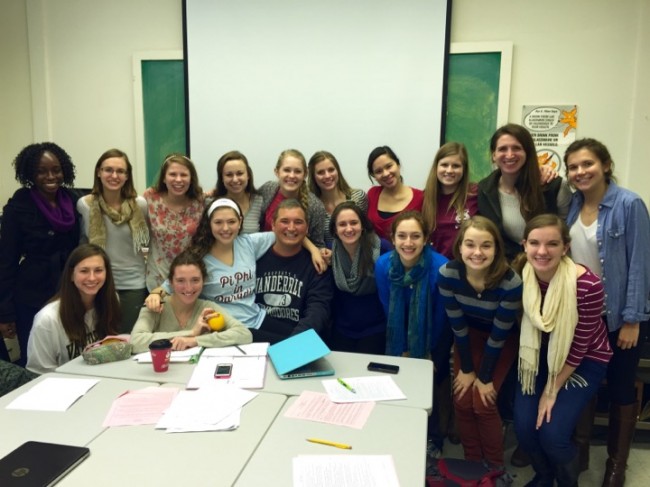 Why do I appreciate this family?
Well, although we're not necessarily titled a "family" I consider this group of amazing students and future educators a family on which I can rely on and turn to in times of need. While most of these times of need have usually been during times of academic stress I can also say that this is a group of passionate students who I can always turn to for a lively discussion about a variety of issues, both education and non-education related, although we always find a way to link it back to education. I am so proud to be part of this cohort of students and to know that Peabody is doing such a great job educating and preparing tomorrow's educators.
5. VIDA
VIDA is Vanderbilt's premiere Latin dance group. We perform on campus and at events in the surrounding Nashville area with the mission to share this dance form and its culture to others. I've been part of VIDA since my very first semester at Vanderbilt and I can definitely say that the VIDA family is real. I don't know if it's because of our late night rehearsals or the many hours we put into preparing for our signature events such as Dancing with the Dores in which, much like the show "Dancing with the Stars", students representing a variety of university organizations compete in a partner dance-off.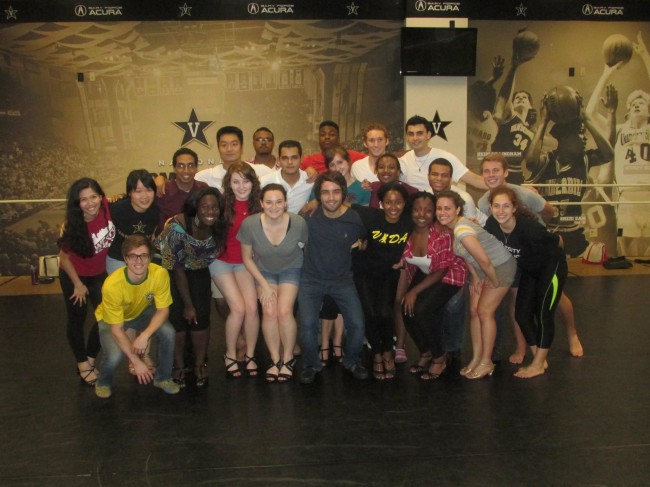 Why do  I appreciate this family?
The VIDA family is one based on the shared joy that dance brings to our lives. Every Sunday and Thursday night from 9:30-11:00 pm I get to share in the language of dance with this fantastic groups of diverse students who have joined VIDA for reasons that are just as varied as they are. Dance has been a passion of mine from a very young age and getting to share this passion with others in college has been a highlight of my college life. Getting to share a stage with and learn and create choreography with VIDA's members will always be some of my first and most treasured moments at Vanderbilt.
Thank you to these families and to the communities of people that I can rely on and that support me as a student. And thank you to my real family, the one that's here in Texas and with me at Vandy (Happy Birthday to my brother and Class of 2018er- Miguel!! He turned 19 at midnight!) Having people who believe in me, who tell me this, and who I can always turn to is a blessing.