Encore-down, Melodores!
As Anne blogged about last week, our amazingly talented Melodores added to Vandy's list of national titles last week with their huge win on NBC's The Sing Off! Now, as a member of Music Group with both Augie Phillips and Ted Moock, I would like to say that I personally knew two of the Melodores back before they became famous (and snagged the top spot on iTunes' vocal music charts!), but as a part of the Hustler, I got exclusive interviews with the Melos right after their win aired on TV!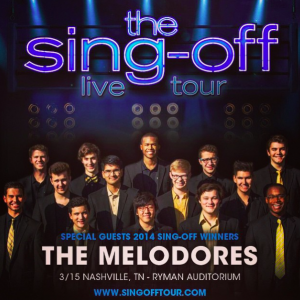 After getting home on Saturday the 13th and having a few days to relax post-finals, I spent Wednesday night live-tweeting "The Sing Off" as they competed against five other a cappella groups from all over the country for the title and the $50,000 prize.
Watching the Melodores on TV was totally surreal. The last time I saw the group was at a Fourth Fridays performance in New Rand, and to go from there to Dolby Theatre in the heart of Hollywood was undoubtedly a huge jump, but they made it look easy. Following along on social media threw it over the edge though. For two hours that night my entire timeline was practically a play-by-play of The Sing Off, and the tweets our team on @VandyHustler were sending got tons of feedback almost immediately. Turns out it wasn't just us — by the end of the night #MeloLove was trending around the nation!
The excitement of Wednesday night spread far and wide, but for me that was just the beginning. As the Hustler's Life editor, my job doesn't really take breaks for weekends or holidays — especially when a Vandy performing arts group snags a national title — so after a quick night's sleep, I was ready for more.
Long story short (well, it's 1000+ words, so maybe not so short), there was a lot more that went into the Melos' win than we got to see on TV, but they've got plenty more up their sleeves!