Cuz You're Hot Then You're Cold
This post is dedicated to the delicious and wonderful Hillsboro establishment, Hot & Cold.
Hot & Cold is easily one of my favorite Nashville places. It's located extremely close to campus, right in Hillsboro. They serve Jeni's ice cream (need I say more?), Las Paletas (seriously, there's more), Olive & Sinclair chocolate (still drooling), and, on top of it all, Bongo Java.
It would be enough if Hot & Cold simply had all of these wonderful things and sold them individually, but they take it a step further. Hot & Cold is dedicated to combining these delicious Nashville staple and creating wild and crazy drinks and desserts that will always have your craving more.
Hot & Cold is actually the name of one of their more famous drinks which combines a single scoop of Jeni's ice cream and a shot of Bongo Java espresso. It's one of my go to drinks, especially during finals week, and I am currently craving one immensely.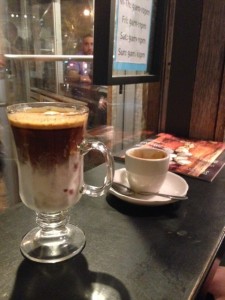 Their signature drinks change so frequently you'll find yourself running to the store to catch each and every one. One of my personal favorites is called the Sugar Plum Fairy, served in the winter, and combines dates, almonds, anise seed, honey and salt to form a latte, and then is sprinkled with some sort of sugary magic called fairy dust. It is so so so soooo good!
Hot & Cold is such a great late night chocolate fix place, and they always have something for everyone. Whether your want coffee, ice cream, or something in between, they can hook you up.
Have I mentioned I am missing Nashville? Mmmmm.