First Time Honkytonk Line Dancing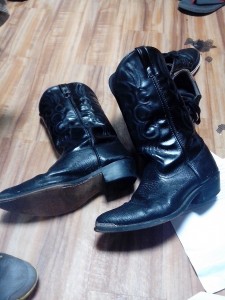 I'm no fan of country music, I don't see the big deal in wearing cowboy boots, and I absolutely refuse to say the southern linguistic conundrum of "y'all." And I'm from Houston! Ironic, isn't it?
Granted, Houston is probably one of the least stereotypically "Southern" cities, since almost every building is fairly new and consists of national chains. Nashville, on the other hand, has seen the US  earlier in its inception.
When I first arrived in downtown Nashville, everything I heard about Southern culture slowly yet shockingly became true. Old brick buildings: check. Saloons: check. Country music echoing the streets and boot-clad men and women walking and square dancing and stumbling in those streets: check and check. I swear, almost none of this was in downtown Houston.
As I dove headfirst into this Appalachian lake of Southern culture, I was very hesitant to dive back in.
Several weeks ago, my roommate and her friends invited me to go line dancing in one of the most popular line dancing clubs downtown: the Wild Horse Saloon. The name itself made me uneasy, but since I was still the new kid in town making friends (and still am), I decided to step outside my comfort zone and give the ole' South a try.
And my God, was it worth it.
I didn't know what it was that made me have fun despite my previous concerns. Maybe it was the sight of many people smiling and just having a great time on a Friday night or the dance floor that was always crowded with happy strangers who didn't give a care about anyone else. Or maybe it was the fact that in almost every song, an instructor would guide the crowd through a standardized series of dance steps so that, come midway through the song from the live band, the whole throng would dance in unison. That's the beauty of line dancing: no fear of judgment of your dancing ability or of looking like a fool, because everybody is doing the exact same thing. Everybody looks like a fool, but I enjoyed looking like a fool with everyone else.
What made the night even better was that the DJ appealed to many dancers, making sure to include more universal line dances like the Cupid Shuffle and the Wobble (my personal favorite). Oddly enough, while I was dancing to the wobble, a blonde woman, whom, judging from her white dress, sash, and tiara, I could only make out to be someone enjoying her bachelorette party, starts joining me midway through the song. I was surprised at first, but had a great time dancing side by side with her.
Overall, it was a great night and a great way to dive into the heart of downtown Nashville. My point behind that whole night filled with boots and beers is that you don't have to love country music or even the South to love what this city has to offer, and country certainly isn't the only thing it has. I neither listen to country nor say the word y'all — and I'm from Texas, for crying out loud! But that didn't stop me from finding a line dancing bar as perhaps one of the most fun things to do downtown!