Fall Break Favorites
Hello friends! Time for another rousing adventure in the life and times of Gabi Grys!
Although it was hard not going home for fall break, I got to enjoy some of my favorite things about Vanderbilt!
1) Baking in Our House Kitchen
Number One is slightly misleading since I was not actually the one doing the baking. Two nights before fall break when everyone was cramming in last minute work and studying, my friend Maggie decided to go bake a cake at midnight. Each Commons house has a kitchen for your general kitchen needs, which typically means baking. There's something so relaxing and adult-feeling about just whipping up a batch of brownies. The cake Maggie made ended up being delicious and the perfect study break.
2)      Exploring Nashville
At Vandy, we are so blessed to be right in the heart of one of the coolest cities in America. There are always a million things to do! Over fall break, I venturued into Hillsboro Village, just a short walk from the Commons. Not only did I get some delicious Jeni's Ice Cream (sweet potato and roasted marshmallow, so incredible) from Hot and Cold , I also found a great spot to read and enjoy the sites and sounds of Nashville.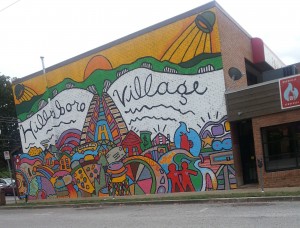 Side note: A perk of living in a city like Nashville that I'm completely not used to is walking everywhere! At home I had to drive to get anywhere; it's nice to be able to just stroll down the sidewalk to a great restaurant, bookstore, or CVS.
3)      The Anchor
The Anchor is a room in the Sarratt Student Center dedicated to all of your poster and banner making needs. All the different clubs and organizations at Vandy are constantly putting on shows, fundraisers, talks, and other awesome events. What better way to advertise than a giant banner?  The Anchor is partly one of my favorites simply because it exists and I love knowing that I go to a school with a whole room for making signs. The second part is based on my personal experience with the Anchor over Fall Break where I painted a banner for my house's Commons Mix Up (something I promise you will hear all about at the end of this week!)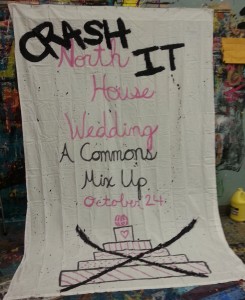 On that note, I will say goodbye for now!
Much love,
Gabi