A Freshman's Guide to Froyo
Picture this: it's 9:00 PM on a Wednesday night and you've been studying with a few of your closest friends in Commons Center for the past four hours. Brain dead doesn't even begin to scratch the surface of how you're feeling. So….. what to do?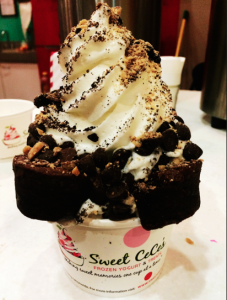 Ask any of my closest friends, and no words are needed except "froyo".
So how did this troublesome yogurt addiction begin?
Do we need help?
Where can we find it?
What will my parents say when they see I've spent so much money on sugary dairy products??—alright, alright mostly unhealthy toppings.
Well, there are a couple of options here at Vanderbilt to satisfy the worst of cravings.
For the quintessential yogurt experience, take a trip to Sweet Cece's. If you haven't been (GO!!), Sweet Cece's is a self-serve froyo joint that's about a five-minute walk from Commons. It has rotating flavors ranging from pumpkin to cupcake batter and over a dozen toppings. Some nights they have live music, so it's well worth the walk. The dangerous/best part: it's not priced by weight.
Because it's one of the 36 locations on the Commodore Card (it's pretty easy to trick yourself into thinking you're not spending "real" money), it's a frequent stop for Vanderbilt students and you're bound to have a run in with someone you know from around campus.
But if you're feeling super tired and lazy and not looking to venture off campus… Last Drop Coffee Shop in the bottom of Sarratt Student Life Center is the answer. This popular location carries Caribou Coffee, three flavors of froyo, numerous toppings and sandwiches. Not to mention it takes the meal swipe, so you're definitely making the most of your meal plan.
However, I don't discriminate and if frozen yogurt just doesn't do it for you (….wut) then check out Hot & Cold, which is just a few doors down from Sweet Cece's. Hot & Cold carries gourmet popsicles, Jeni's ice cream, coffee and other sweet desserts.
Moral of the story: there's never a shortage of food exploration on or off campus. Whatever your late night cravings are, Nashville won't disappoint.