Bollywood Night Out
How many of you know about Bollywood? It is India's Hollywood, just with more, sometimes randomly placed, songs and dances. Coming to the U.S., I thought I wouldn't be able to see Bollywood movies outside of Netflix. (Yes, there are fairly new Bollywood movies on Netflix!) I couldn't be more mistaken.
I was in my room writing an intense paper for my Women and Gender Studies class on "Disney Fairy Tales: Then and Now" (I love my classes) when my mom in India texted me, " Are you going for the film Mary Kom? :D"
A brief background: Mary Kom is based on the real-life boxer Mary Kom who is a five-time world champion and Olympic medallist. Bollywood released a film based on her inspiring life just this month, starring Priyanka Chopra (Pitbull fans, check this out). Most Bollywood films are full of dances and are commercial in nature. But "Mary Kom," based on the true life of this legendary boxer, isn't your typical Bollywood film.
I had been looking forward to this film ever since I heard about it. So I was pleasantly surprised that Sutherland House, was treating us to a screening of "Mary Kom."
Professor Chalene Helmuth is the Faculty Head of House of Sutherland and her partner Dr. Christy Halbert is a renowned boxing coach who has worked with the U.S. Olympic boxing team. Dr. Halbert spent around five weeks in India working with the "Mary Kom" team to choreograph the international boxing sequences shown in the film. She has also personally trained Bollywood star Priyanka Chopra for her demanding role of a champion boxer.
So as soon as I saw my mom's text, I signed up for the screening, taking a friend along. On the way to Regal Cinemas, I met other excited Vanderbilt students who had signed up for the movie too!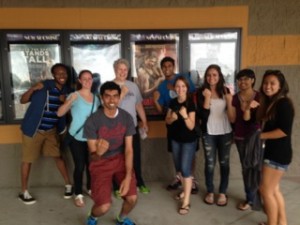 The movie exceeded my expectations and it beautifully depicted Mary Kom's inspirational journey to success. I don't know much about boxing, but I have to admit that the boxing scenes in the film were thrilling and it was none other than Dr. Halbert, sitting right in front of me, who had choreographed them! :D
After the movie ended, we had a Q&A session with Dr. Halbert who shared her unique experience of  working in a Bollywood film and training the actors for the boxing scenes. She also talked about how the boxing matches were filmed and dramatized for a cinematic audience. Later, as we headed back to the campus, we bonded over Bollywood and boxing, recalling our favorite Mary Kom moments.
A BIG thank you to Sutherland House and Vanderbilt for this amazing evening!