A Year of Many Firsts
Hey everyone! My name is Aditi and I'm a first-year in the College of Arts and Sciences. College is a remarkable journey and through Inside 'Dores, I hope to share some of the amazing experiences I'm having at Vandy.
The first week of college is a roller coaster ride of settling into a new environment, meeting hundreds of new people, attending thousands of orientations (I'm not exaggerating :P) and bonding with fellow excited (and nervous) first-years. So here are some of my favorite experiences in the first week at Vandy that I will remember for days to come:
First Campus Visit. I'm an international student from India and therefore I didn't get the chance to visit the campus before coming. However, I did find this virtual tour which helped me get a feel of the campus. Move-In Day arrived sooner than I thought and before I knew it, I was walking around the now familiar Kirkland Tower and the Wyatt Center. The campus is a national arboretum and is probably one of the greenest places I have been to. When I first visited Vanderbilt's campus, I was also surprised by the squirrels jumping from tree to tree like little ninjas! (A commonly held belief is that there are actually three times as many squirrels as there are humans on the campus)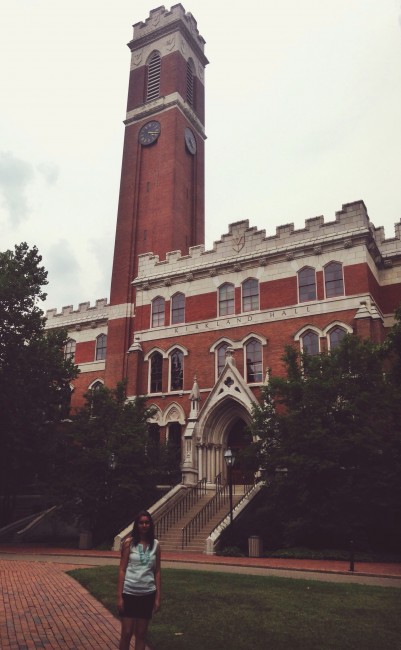 My first visit to the iconic Kirkland Hall!
First Dorm. Vanderbilt has 10 residential houses for first-year students, each unique in its own way. I live in West House, known for its beautiful classic structure. Move-in day was a whirlwind experience, from getting my room keys and seeing my dorm for the very first time, to hurrying over to Target with four shopping carts in tow! After much planning (and shopping!), I finally finished decorating my room.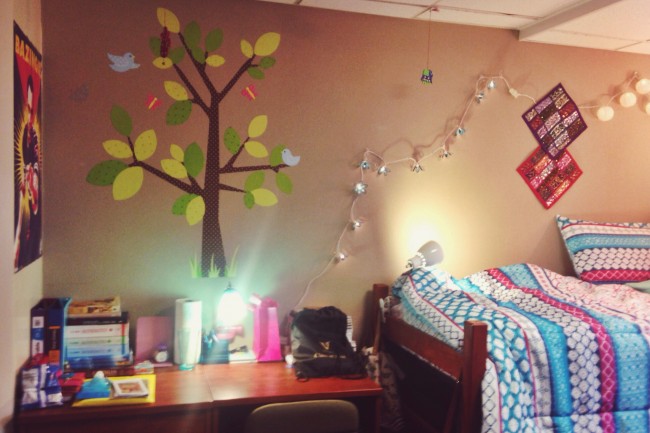 First Tailgate/Anchor Dash. Coming from India where cricket is the be all and end all for sports fanatics, I was new to the football and tailgating culture in the U.S. Vanderbilt is a member of the SEC network and we take our sports very seriously, be it baseball or football. Even though Anchor Dash was cancelled because of inclement weather, we had Anchor Dash Version 2.0 today, and words cannot describe how fun and exhilarating that was!

First Visions Group. It's hard to describe Visions, but essentially it's a weekly meeting of a group of 18 students with a student and faculty VUceptor. Visions can mean different things to different people. For me, my Visions group was my first community at Vanderbilt and a way for me to smoothly transition to college life. Okay, I know I'm beginning to sound rather like an advertisement, but Visions is FUN! Hanging out with my faculty VUceptor Dean Wcislo over tacos, listening to my favorite songs with my student VUceptor Rebecca Chong (my absolute favorite upperclassman!) and going to football games with my group members are a few of my fond memories. Visions is one of my most cherished Vanderbilt experiences.

First Day of Classes. Having been free for 4 months, I could not wait to start going to classes and learn in a liberal-arts atmosphere, which is one of the main reasons I came to study in the U.S. I had already picked my classes and bought my books and all that was left was to go to class. A first-year's rite of initiation is getting lost on campus, but fortunately my VUceptor did a campus tour with us so I was lucky to be on time for all my classes. My classes range from Spanish in Wilson Hall to calculus in Stevenson Center and I enjoy all of them in equal measure. The first day was busy but good!
First Blog (Yay!). After reading so many posts in Inside 'Dores, I can't believe that I am a member of this family now. I hope you all liked this post, my very first at Vanderbilt!
Anchor Down!