Social Media Loves Me
Boy, was it fun moving in all the first-years at Commons on Saturday, though I'm sniffing a bit because that was my last time helping to move-in the freshies.
My suities and I woke up at around 5:45 AM and left for Commons to grab breakfast before the first cars showed up at 6:45 AM.  Then it was a madhouse of screaming, high-fiving kids through the windows of cars driving past Stambaugh,  dragging luggage and boxes up flights and flights of stairs, and jogging back down the stairs to do it all over again.  It was enormously fun, too, to cheer on the hard-working fellow Move Crew-ers and yell, "Bye Dad!  Bye Mom!  Miss you already!  See you soon!" as the emptied cars made their way out.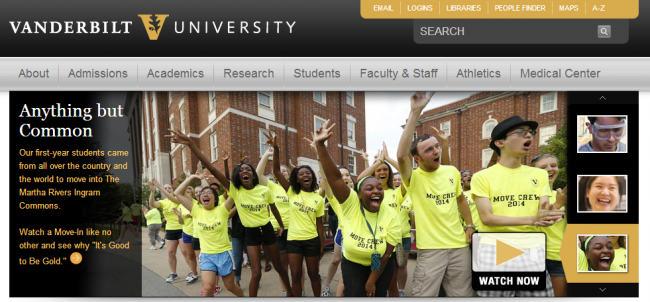 After that, we lunched and helped my friend A. move a ridiculous amount of stuff into Towers. Then I took a nice nap, practiced, got a sneak peek of the new organ in Turner Hall, biked to the Protestant Worship Service on Commons, and made friends with a few awesome first-years there.  As soon as the last freshmen scooted off to their first House meetings, my friends and I made our way to the hordes of ice cream. It's tradition to feast on the Haagen-Dazs left over from the Commons Family Dinners of the first night.  My "friends" H. and D. also thought it would be funny to pick me up and throw me into the ice bath of sodas.  Real funny guys.  I'll get them back, don't worry.
Move-In Day is seriously one of my favorite days of the year.  I love Vandy and apparently Vandy loves me.  So check it out, I made the headliner picture for the Vanderbilt website.  Isn't that cool?  And then my friend N. made me laugh by posting on my Facebook, "They might as well call this "VUCast: Ann Yeh Edition."  And it's hilarious how many times that Asian girl in the blue shorts shows up.  I've also showed up in a few calendars in the past as well.  I'm not under contract yet, but modelling agencies, look out.
First-years, welcome to your new home!