Everyday I'm Hustlin'
'Twas the night before FDOC (first day of classes) and all through my suite every creature was stirring in anticipation, except me because I wasn't there. Why, you may ask? Well, Tuesday was the very last day of summer, so naturally I spent the day like I did most days this summer — hard at work.
Tuesday was my first ever production night as Life editor for The Hustler, and for the uninitiated, that's where allllll the magic happens. All the text and pictures and graphics and stats are all combined and made beautiful by people way more talented than I, but I'm there to edit my section's articles, help post them on our beautiful new site, contribute design input, and do really anything else that needs to be done.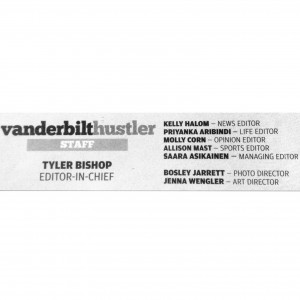 My first night was a bit of a whirlwind, but after a good 11.5 hours in the newsroom I got to wake up to this in the morning.
Taking on leadership roles, whether at the Hustler or in other commitments (read: Inside 'Dores), can be time consuming, but for me, these commitments are places I can apply what I learn and hone in classrooms to real-life settings. Managing a staff and planning content at the Hustler and blogging and building audiences at Inside 'Dores are all things I want to do on a daily basis in the future, so having the opportunity to get a head start while I'm still on campus is something I'm grateful for every day, and now, on my way to my third freshman activities fair (to work the booths for The Hustler, Inside 'Dores AND Music Group), I couldn't gush more about how much extracurriculars have really shaped my experience here at Vanderbilt. I love all my time in the classroom — don't get me wrong — but having a club or event or paper or service project that you're really passionate about is just as important.