Jae Goes to Bolivia: The Dragonfly [Part 5]
In the mornings I went to the Plataforma to observe the physicians, in the afternoons it was a completely different story as the group went to help at… The Dragonfly
Normally, when you hear of a place called "The Dragonfly", you'd think it would be some kind of underground bar/club/gang. I would totally join a gang called The Dragonfly. It just sounds really legit. But no, it was just the name of a children's after-school care program.
After our morning rotations, we would go back to the house, have lunch with the family, then head back out around 3pm to The Libelula (The Dragonfly). The libelula, like I mentioned, is an after-school program for kids where they do their homework and hang around until their parents pick them up. We were going to be spending about 2 hours there, two times a week and today was one of those days.
I didn't really know what to expect, only that I knew I wanted to play soccer with them. When we walked into the classroom, we saw around 20 kids around the ages of 6 to 11 sitting in their desks doing homework. They all noticed us and turned. Then they saw me all they all stared right at me. One kid stood up, pointed at me and said, "Chino." I don't even speak Spanish, but I knew that meant 'Chinese.' And so, for the rest of the month, they all called me "Chino." One kid even told me I looked like Jackie Chan. I'm pretty sure I don't but I guess being Asian does that.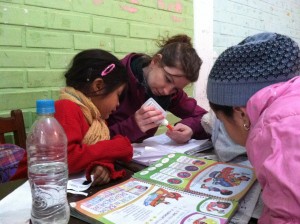 Anyways, once all the kids got around to calling me Chino, we all sat down by a kid and helped them do their homework. Once I sat down, I looked at my kid's homework and realized I can't help him with his homework since I don't speak Spanish. So… I just watched him try to do his reading and nodded my head whenever he asked me something.
The worst part was when all the students were done with their homework, they went outside and played in the playground. A group of them came up to me and started asking me questions. Using my limited knowledge, I tried answering but I really had no idea what they were saying. So they kept giving me the, "Are you stupid or something?" look.
Apart from all that, it was great getting to be able to experience a different side of Tarija that wasn't related to the medical field. Being able to see how these young children live their daily lives and be a small part of that was an enlightening experience. It makes you appreciate that even though these schools don't have much such as textbooks, utensils, school supplies etc, they are able to get by and still value education in these children's lives.
The group continued to come to the Libelula over the month and during those times we were able to get to know the kids better and especially for me, as my Spanish improved, I was able to help my kids complete their homework just a little more.