Three Things I'll Miss the Most From School
So I've been home for approximately thirty hours, meaning that I've had sufficient time to soak it all in and start what is sure to be a long three and a half months pining for school to reopen (yes, I am completely serious, and yes, if you had told me I would feel this way two years ago I would have laughed in your face). Fortunately for you guys, I've decided to channel this longing into something productive (if you told me that a week ago when I was holed up in a study carrel in Stevenson, I also would've laughed in your face), and have come up with the three things I miss about being at school:
3) Ro*Tiki tacos:
Located inside the Branscomb munchie mart, Ro*Tiki was a quick and easy option for lunch or dinner, and their tacos are one of the most underrated food items at this school. These essentially powered me through all of finals, and I wouldn't be surprised if a sufficient portion of my blood has become chipotle BBQ sauce in the time since then (4 a day for a week will do that to you). My favorite is the 'Ya Mon' — pork carnitas with salsa and barbeque sauce that are covered in cheese — and I would've attached a pic if I could've been in their presence for more than 2 seconds without devouring them.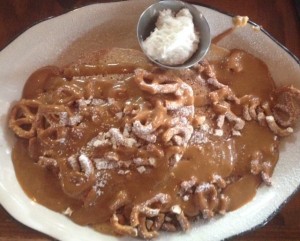 2) Nashville food in general:
Of course this is devolving completely into a post about all the food that I'll miss stuffing my face with while I'm at home…could I be more predictable? But without Silly Goose's salads, Virago's sushi, Taco Mamacita's tacos, Sambuca's beets (and beats!), Tavern's brunch, Wild Cow's Beans & Greens, Moto's Blueberry Lasagna and let's not forget washing it all down with Jeni's Ice Cream (Goat Cheese with Red Cherries is my personal favorite), how am I supposed to make it through the summer?? The fact that this is a completely legitimate concern of mine just goes to show how spoiled I've been by Nashville this year.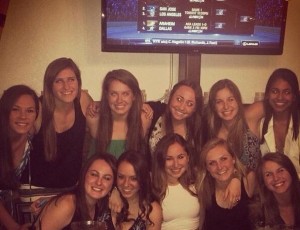 1)   Lambda Upsilon Pi
Shocking as it is, this isn't a food item! Lambda Upsilon Pi is not in any way a real organization, but as residents of Lup 6, my friends and I came up with this little name to call ourselves. Living on a hall with my best friends was by far the highlight of my sophomore year, and the fact that I didn't even know a lot of them before the beginning of this year is crazy to me. I really lucked out with the housing process, and as much as I love me some Ro*Tiki, they're the reason leaving Branscomb was so hard. Thankfully our little group will be recolonizing next year in Towers 1 and Cole Hall with some off-campus housing in Barcelona/Florence (shout outs to Morgan and Rae, who are studying abroad!), so the LUP legacy will live on!