The Final Post
Dear readers, it's been a few very splendid years of writing for you–I hope you've enjoyed reading as much as I've enjoyed writing. This is very possibly my last ever post for Inside 'Dores.
Three days ago, I graduated from Vanderbilt University. I'm currently writing most of this on the (14 hour, eep) car ride back to Naples, Florida. Before I do a bit of mushy, sentimental reflecting on my time at Vandy, let me tell you what I'm doing next:
I have a one-month trial job at redpepper–so I'm delighted to say I'll be back in Nashville for at least the summer! At redpepper, there are a couple of long-term positions that are opening up so essentially we're seeing if I'd be a good fit for one of them. Hopefully the job will turn into something more long-term and I'll end up in Nashville for a while, at least.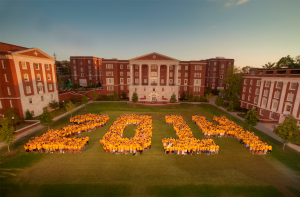 Now, back to the sentiment. I'll keep it brief, but let me just say that I am so glad I chose to attend Vanderbilt. In the past four years, I have had amazing professors, incredible experiences, learned a ton, and been a part of a truly amazing community–and I'm so blessed to have been able to share pieces of that with you all!
On tours, I often get asked what my favorite part of Vanderbilt is and I always say the people. Whether it was professors, co-workers, acquaintances, or friends, I have learned so much from the people around me. The campus you choose to spend four years of your life at definitely matters, and Vanderbilt is incredibly and stunningly beautiful. But in the wise words of our Chancellor at Commencement, "Buildings are only as beautiful as the people they welcome inside and the opportunities they create for those who enter." And Vanderbilt is filled with beautiful, intelligent, creative, fascinating, intriguing, and delightful people and opportunities. And getting to be among those people for four years of my life was very possibly one of the greatest experiences I'll ever have.
So here's to every person I've met through my time at Vanderbilt–you've all had a role in shaping who I am and what I've learned. And here's to you, dear reader– may you one day be one of the amazing people that has the chance to spend four incredible years (that will fly by at an insane speed) at Vanderbilt University. Anchor down, and go 'Dores!