Rites done Right (Round 2)
It's been said that with great power comes great responsibility, and this year that was just as applicable to Tobey Maguire as it was to me working my second year at Vanderbilt's annual Rites of Spring Music Festival. As a part of the Music Group, I spend the whole year planning and looking forward to Rites (along with Commodore Quake in the fall), and I can say that this year it fully exceeded my expectations in every single way.
From the huge crowds to the crazy sets to the warm weather to the incredible music, the weekend couldn't have been more perfect, and as part of the group, I got to watch the show from up close. But it wasn't all fun and games — it takes a lot of work to put on a festival like Rites, and with the help of some volunteers, Music Group does a lot of that work.
My freshman year I worked shifts in the merchandise tents and with ticketing at the front gates, which isn't too different from the norm, but this year was different. In addition to more responsibilities, this time around I also got to be a runner for one of my favorite bands, The Mowgli's. On Saturday afternoon the band showed up backstage with a basketball and puppies in tow, and from the minute I heard the first bark, I knew that this job and that day would be an entirely different experience from anything I'd ever done at Rites before.
As a runner, I had to do a lot of work before the weekend even started to prepare for the band's arrival. In the week before I had to shop for the band, assemble all the snacks and drinks that they requested, and make sure I was available for anything they needed the day of the performance. With some artists I'm sure that would've been a nightmare, but The Mowgli's are just as fun and upbeat as their music is, and getting to play with their puppies was a huge plus.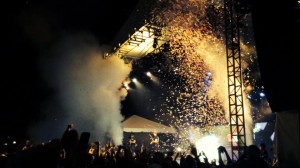 Getting to help out at Rites is something I don't think will ever stop amazing me. I mean, how weird is it to think that before I go home for the night I can chat with Steve Aoki and snap a pic with 2 Chainz? Aside from those two (who were obviously great), the rest of the lineup this year really was unbelievable. The artists were so talented and the entire thing was just so much fun. For everyone who couldn't make it, the Hustler snapped some pictures that are so awesome you'll feel like you sat front-row (and I did some live-tweeting!) that you can check out, and I did my own little superlative-style recap so you guys could hear (click the links to really hear) my favorites:
Best Day Act: Misterwives
I can't think of anything else I'd rather listen to while lounging on the lawn with friends – such an incredible, upbeat set by such talented musicians.
Best Performance: Twenty One Pilots
These guys know how to put on a show. From climbing the scaffolding, to  crowdsurfing with a drum kit, to jumping and flipping and giving me near-heart attacks at least 4 times, they kept the crowd entertained from start to finish.
Best Headliner: 2 Chainz
Aoki was incredible, don't get me wrong, but watching how insane the crowd went for 2 Chainz was unreal, and lets not forget about that surprise appearance from Lil' Boosie…
Best Band: Delta Rae
As much as I loved The Mowglis' set and hanging out with them, I gotta give this one to Delta Rae. They sound UNREAL live, and if you haven't heard them yet you need to check them out right now.
Best Hidden Gem: Smallpools
Smallpools only has four songs out, but they didn't let that stop them from giving one of the best sets of this year's Rites. Their music is upbeat and fun and another staple for enjoying warm weather, so check them out if you haven't already.