Reminiscing About My ASBreak
This post is super late, but I have to keep up the tradition of blogging about my spring break! This year, I participated in Alternative Spring Break (ASB) for my third year. I came back to the program as a returning site leader. This year my destination was Detroit, MI. The site was my top choice, but honestly I was a little apprehensive about the experience, especially the week before the trip. The city has acquired such a bad reputation within the past few years, and everyone's reactions to the fact I was spending spring break there was starting to affect me. However, the week was truly amazing.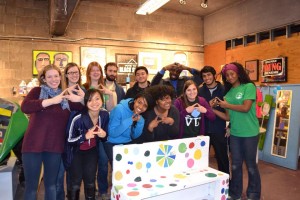 While in Detroit, our group worked with three organizations: the Capuchin Soup Kitchen, The Heidelberg Project, and Nortown Community Development. Our trip was focused on the issues of homelessness and poverty, and more specifically these issues in an urban context. We did a variety of tasks at each organization, such as…
Capuchin: Here we volunteered at their store house and helped sort food, clothing, and other resources. Capuchin has been operating since the 1920s, when a friar started cooking for unemployed and homeless men affected by the Great Depression. Since then, the operation has expanded to a soup kitchen, a clothing drive, and a center for multiple resources such as a library, certain classes, and other education programs. After helping in the storehouse, our group had the invaluable opportunity to eat lunch with some of the clients. This gave us the opportunity to engage in conversations with people that use Capuchin's services. While we only spent one morning with Capuchin, their mission was inspiring and provided us with a fresh perspective of homelessness.
Nortown Community Development: This organization is a small community development office located in the northeastern area of the city. Nortown is run by the Detroit-raised couple Pat and John. These people are two of the most influential individuals I have ever met in my lifetime. We helped at Nortown by cleaning out an abandoned home in the neighborhood. The home was government housing, and had been abandoned by the family that was evicted. This was definitely a sobering experience for me; I was especially emotionally affected by all of the "personal" belongings the family had left behind—such as photo albums, hand-written cards, etc. Pat and John helped us clean the house, and we were able to discuss with them some of the underlying issues Detroit has been facing since the 1970s. While working with Nortown, we also had the opportunity to meet other members of the community. For example, Pat sent us to help one of her friends, who had converted an abandoned lot into a greenhouse. This woman, Edith, spent her free time planting crops. In fact, some of her harvest goes to Capuchin kitchen. It was neat seeing how all these different organizations we volunteered for were in a sense interconnected.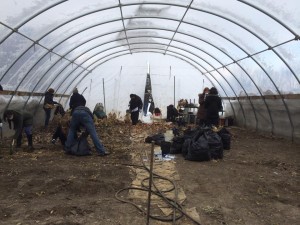 Heidelberg Project: The last organization we worked with throughout the week was the Heidelberg Project. This neighborhood is an outdoor art museum created by Tyree Guyton. Tyree was raised in this neighborhood, and wanted to create an expressive method that made a statement about the area. Since the formation of the project, the Heidelberg Project has done a variety of service initiatives in the Detroit area. While at Heidelberg, we helped create their upcoming installation, an outdoor library. The installation will be a series of bookshelves and benches shaped like animals. Donated books will be placed in these bookshelves covered by plexiglass, and users are encouraged to take the book with them if they want to continue reading it. This was an idea originated from Sit On It Detroit, a new organization that collaborated with Heidelberg Project while we were volunteering. Together, we built over three benches. In addition to carpentry, we helped the organization prepare for their upcoming community benefit, and shoveled the sidewalks in the neighborhood so that pedestrians had better access to the Project. Working with Heidelberg was one of my favorite events of the week. I especially enjoyed getting to know the staff. We spent most of our time with Jess, a carpenter who has lived in Detroit her whole life. In addition, we spent a lot of time with Emily, the special projects coordinator. Emily actually is a recent college graduate, and participated in ASB at her school. She told us how her trip to New Orleans had been such a transformative experience for her, and led her to change her career plans and to pursue a job at the Heidelberg Project. It was nice to be reaffirmed of how impactful an alternative break program can be. Unfortunately, HP has been the target of a stream of arson attacks over the past five months, and there was an attack on one of the houses while we were in the city. Our group decided to visit the site, and reflect on the event. While the circumstances are far from ideal, the staff of HP are more motivated than ever, and have the perseverance to keep fulfilling the mission of the HP.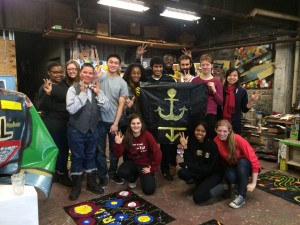 While our week was packed with service, we still had time to explore the city and bond as a group. On our free day, we went to the Detroit Institute of Art, which had some amazing pieces of art. In addition, we also got to eat dinner with some Vanderbilt alumni in the area. Throughout the week I was overwhelmed by the hospitality we received. In addition, I was grateful for my group having such a wonderful dynamic, and getting to become friends with eleven people that I hardly knew before the trip. Overall, Detroit was definitely a more emotionally investing service trip, but getting to witness the sense of the community that the citizens of this city have was invaluable, and I'm so happy I got to serve on this site.