Choose VU
Every Tuesday at 11am, I embark on a journey across Vanderbilt's campus with prospective students and families in tow, eager to show them our beautiful campus and tell them about my experiences spending the last four years at this wonderful place.  At the very end of tours, we tour guides like to give our groups a rundown of why exactly we chose to attend Vanderbilt–and since the Class of 2018 (my gosh I'm old) has received their acceptances and May 1 is fast approaching, I've decided that this is a perfect time to share my 'Why Vanderbilt' story with the internet.
In the past I've written a couple of posts about why you should come to Vanderbilt and about my experience with MOSAIC weekend and what an impact it had on my decision, but I've never explained fully exactly how I came to be here.
Going through the college admissions process, I never had a dream school.  I had a ton of schools that I liked, but I was very indecisive and just narrowing it down to which schools to apply to was really difficult for me.  I ended up applying to both schools close to home in California and schools entirely across the country–I really didn't know what I wanted.  After April 1st came and went, I managed to narrow down my list to three schools that I had been accepted to–one of which (obviously) was Vanderbilt. The allure of this place was initially just its location–my sister was living in Nashville, so I thought it would be nice to be close to her–but after I came to campus for MOSAIC weekend, that completely changed.  Spending the weekend interacting with other admitted students, current students, faculty, and the admissions office really gave me a taste of what it would be like to be a student at Vanderbilt.  I saw firsthand the balance that Vanderbilt students have between academic and social aspects of their lives and thought that it was AWESOME.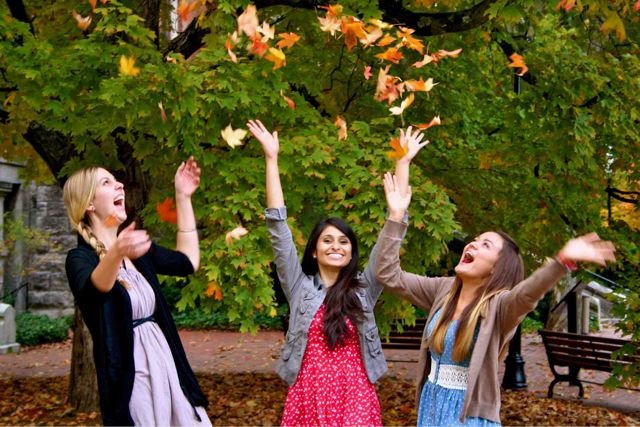 But I went home still uncertain about where I wanted to spend the next four years.  I can't say that I had one of those moments where you walk onto a campus and are hit by a ton of bricks saying "THIS. THIS IS THE PLACE YOU WERE MEANT FOR." That did not happen. Nope. So my indecisive self was stuck with this huge decision to make and no definitive right or wrong answer.  So naturally, I made a giant checklist (It was legitimately giant, I made it on a huge whiteboard that's in the garage at home.) of everything I could possibly want in a school.  As I went through the list, I realized that Vanderbilt really did have what I wanted–just to name a few things: not too small, not too big; perfect location in the heart of an awesome city; and students that are primarily students but also so much more than that.  That, combined with a gut feeling way deep down, and I went for it–I picked Vanderbilt.  And I can honestly say that these have been the best four years, and I wouldn't have it any other way.
To sum it up, I'm quoting myself from three years ago, because I really can't phrase it better: "Vanderbilt is a gorgeous place with amazing academics, where the students' social lives don't suffer as a consequence–it's the best of both worlds." (Long story short: choose VU. Duh.)