Inside the Course: Advertising Studio
You may remember my blog post earlier this semester about all of my courses. Well, I'd like to tell you some more specifics about one of my courses in a new series I'm starting called "Inside the Course." We'll see if it actually turns into a series, but basically I'm going to give you the inside look at exactly what I do in some of my classes here at Vanderbilt.
The first class I'll be telling you about? MGRL 235: Advertising Studio. This course is so amazing. It's basically geared around giving you a portfolio to use when applying for marketing and advertising positions, so all of the work that we do is geared to be realistic and emblematic of the sort of work you might actually do in an advertising agency.
One of my favorite assignments is one that was actually given to us by a typography professor at the Miami Ad School (our course is geared towards also fast-tracking you into their program if that's something you're interested in) and the brief (marketing term for assignment, basically) was to design typography that changes over time and name it.
I used my newly acquired darkroom skills to create typography that emerges in developer in the darkroom and gets darker and darker as time progresses. It looks like this:

Another assignment included learning a brainstorming technique called "spidering" where we we had to come up with an ad for a NYC ice cream parlor. We took both ideas "NYC" and "ice cream" and then brainstormed a bunch of different words associated individually with those ideas. From there, we had to combine them in unique ways. Here's what my partner for the project and I ended up with: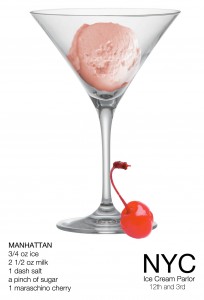 This course is one of my favorite because we've really become a community–it's a small class, and we all review and critique one another's work. We also all love marketing and advertising, so it makes for a fun environment and a really cool group of people to work with. Our next assignment is a video project which is essentially a Survivor audition video–should be interesting!