Salvage the Bones
Every year, the incoming first-year class is united through a Commons Reading. This summer reading is assigned in hopes to foster a discussion between students during their first few weeks at Vanderbilt. As a first-year student, and then an orientation leader (called a VUceptor), I will have had the unique opportunity to read the Commons Reading for all four years of my Vanderbilt career. As I head into my senior year as a member of the executive board for VUcept (the organization for VUceptors), I am preparing to read the selected book for the Class of 2018: Salvage the Bones.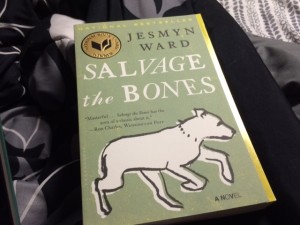 What's unique about Salvage the Bones is that it is the first fiction Commons Reading ever. The novel, by Jesmyn Ward, tells the story of a family in Mississippi preparing for the strike of a hurricane. It is a fictional depiction of the events that occurred during Hurricane Katrina and a deeper look into rural poverty. Personally, I am an avid reader and am super excited to read the book!
Since I am on the VUcept Executive Board, I am reading the Commons Reading now to determine how to discuss this work with the incoming Class of 2018. Talking about Salvage the Bones will be one of the first small group discussions that each first-year student participates in during their first few weeks on campus. In addition, a lot of the programming done on the Commons campus is directly related to the Commons Reading. I am looking forward to reading Salvage the Bones, and I can't wait to brainstorm different ways to unite the Class of 2018 through the Commons Reading!