Flash Orchestra
This past Saturday, I walked into a surprise performance and mini-performance by members of the Nashville Symphony.
So, back-story. This semester, I decided to take German Fairy Tales to fulfill my International Studies credit. So far, the class has been going very well. I can tell you of very strange German fairy tales and how Disney has lied to us with their happy endings.
Anyways, the professor offered extra credit to anyone who came to this event that was going on with the German Graduate Student Association. I figured it would be some speaker or some kind of seminar. I was wrong. I walk into this auditorium thinking, "Alright Jae, sit down, listen, and get out" but then, BOOM, Wrong.
Here's a surprise Orchestra.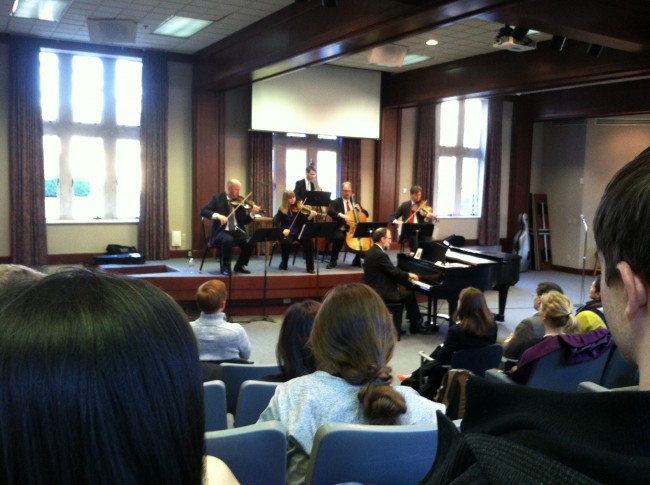 It was quite the shock. Apparently the event was, "Performance & Discussion with a Chamber Group from the Nashville Symphony" and the small group would play a song, answer any questions, and then play the next movement. I enjoyed it. My younger sister plays the flute so I've heard a lot of music and learned to appreciate it in the past going to her orchestra performances. Even more, I do love me some strings. The cello and violin are legit. This is always my favourite scene in Titanic. I'm waiting for the perfect opportunity when I can say that line in a relevant situation.
The event ended after three movements and it was a great study break. The best part was that all of this was free to the general public. Free performance from the Nashville Symphony? That's the quality you get from Vanderbilt. Plus, they gave out free 'buy one get one free' vouchers to the Nashville Symphony. Think about it. That's like the classiest date you could take someone on.