School's Out!
Can you believe it?  Neither could we: Vanderbilt cancelled classes yesterday!
Everyone is still apprehensive about the weather.  There are flights delayed or cancelled all over the country.  One of my friends spent over six hours in the airport because her flight kept getting pushed back.  (She read a ton of books that night.)  The bright side?
There was still no school!  Woohoo!  There wasn't even snow on the ground!  We got out on account of the cold!  (That's not entirely true, because Vanderbilt and Nashville did a wonderful job salting the sidewalks and the roads.)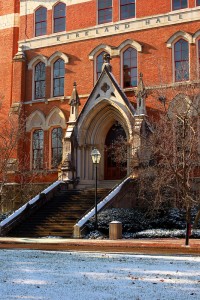 I first heard about it from my nursing school friends, who had received an email at around 8 PM.  Then someone in the elevator told me on the way up to my floor.  When I burst into our room to relay the news to my suitemates, they thought I was pulling their leg.  Thank you for the trust, suities.  It was only when cheers started erupting around Lewis House that they finally believed me.  There were some pretty excited people.  Two guys from my floor were so psyched that they sprinted up and down the hallway high-fiving people.  And people outside in the quad were yelling so loudly that we could hear them on the fourth floor.
So how do you spend a snow day?  Ironically, going out and about was what my friends and I ended up doing!  This is how you should spend your school-free day!

Celebrate at the Pancake Pantry.  Brave the cold to feast on Chocolate Sin and Sweet Potato Pancakes.

Walk quickly to Blair and practice.  We were so blessed to have classes and therefore orchestra auditions postponed!  We totally took advantage of this extra time and sawed away at our instruments for a while.

Possibly go sledding.  If there isn't enough snow, skip out on this option because you won't get very far on grass.  In the event sledding doesn't work out, go to Ann's suite and eat lunch and watch the surprisingly depressing movie "The Pursuit of Happiness."  You would think a movie with that title would be a little more lighthearted.

Traverse back to Blair to rehearse and practice some more.  You try to walk outside in the single-digit temperature and hope that your nose doesn't fall off.  Once in Blair, psych one another out in mock auditions to prepare for the upcoming real one.

Dinner at the Commons.  Try the spaetzle; it's the best side at Commons.  Marvel at the new stromboli that the pasta area put on their Monday night menu.  Love Vanderbilt for giving out free, warm, gooey chocolate chip cookies.  Sit around one long table and catch up with friends that you have not seen in almost forever.  Winter break can sometimes seem like eternity without your best Vandy buddies around!
Some of my Floridian and Californian friends told me that this was their first ever snow day.  What an exciting way to start off the year!