Snow Way!
This morning, my alarm went off.  Silly thing, I wanted to throw it against the window.  But when I flipped it open to punch the snooze, I saw I had a missed call from M.  Why in the world did he call me at 1 in the morning?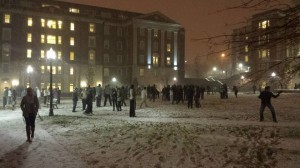 Oh wait, there was an accompanying voicemail.  Snuggling back under my blanket, I tapped in my password, and then shot up upon hearing, "ANN!  IT'S SNOWING!  YOU NEED TO GET UP AND SEE IT.  I HOPE YOU'RE NOT SLEEPING.  Okay bye."  First of all, that was totally adorable and second of all, ah!  Snow!
I opened the blinds to my right.  Lo and behold, it was white outside!
No longer groggy, I whisper-shouted at my roomie R. who was still under her covers, "R. it SNOWED.  Look!"  And I gestured wildly towards the window.  She flipped over and sleepily groaned, "I don't have my contacts in."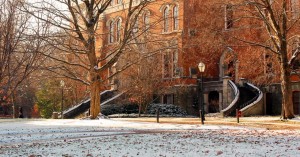 Oh well.  Still excited.  I hopped out of bed, chucked some studying stuff into my backpack, pulled on my wool socks and boots, and giddily skated across the black ice all the way to Rand.  All day, the hot conversation starters were, "Yes!  I was totally awake at 1:30," "Screaming people woke me up at 1 AM," "Snow is definitely the best study break," and "We should totally go sledding on Love Hill."
The only slightly depressing things of today were that Vanderbilt threw salt on the sidewalks – why would anyone choose safety over skating- and that most of the white blanket began to thaw by lunchtime.
There is snow way this post is going to end unhappily, so here are a couple of flake-y jokes that I found amusing:
What do snowmen eat for breakfast?  Frosted Flakes!
What about lunch?  Iceberg-ers!
How do they get to work? By-icicle!
Okay I'm done.  Toodles for now!